Bali Discovery
21 Nights/ 20 Days

The Bali Discovery is an amazing 3-week experience of Bali. What you will get is unique cultural experiences, worthwhile volunteer projects, and exciting adventure travel. Join us now!
There is an amazing experience in Bali waiting for you! Immerse yourself into the local Balinese culture, meet the friendly local people, give back to the local community through volunteering, and join the adventure travel experiences.
Start Dates:
8 December 2022, 1 January 2023, 15 January 2023, 5 February 2023, 19 February 2023, 5 March 2023, 19 March 2023, 2 April 2023, 16 April 2023, 7 May 2023, 21 May 2023, 4 June 2023, 18 June 2023, 2 July 2023, 16 July 2023, 6 August 2023, 20 August 2023, 3 September 2023, 17 September 2023, 1 October 2023, 15 October 2023, 5 November 2023, 19 November 2023, 3 December 2023, 17 December 2023
Unique Cultural Experiences
Immerse Community Projects
Join Fantastic Worthwhile Trips
Receive Top Quality Support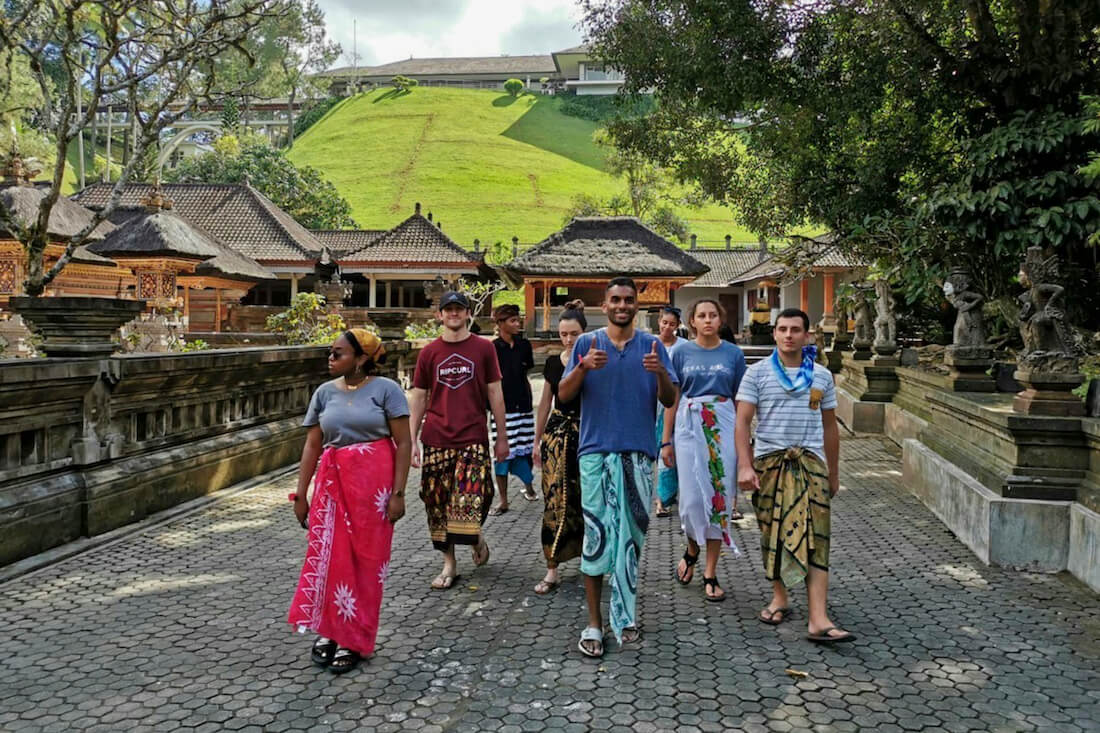 The program
Our Bali Discovery is one of our most popular programs.  It starts and finishes in lovely Ubud. Each week offers different experiences that allow you to fully immerse into Balinese culture.
This responsible travel trip is designed and crafted to allow you to see the best Bali has to offer. Doing a volunteer program in Bali Indonesia provides a unique & worthwhile experience, especially with our experience and immersion programs. It is a great way to gain new experiences, adventures, and skill sets while at the same time learning about the local culture and people.
This is great for international volunteers who want to help to make a difference and give their free time and effort to local children and people with ethical volunteering work programs, and meaningful travel programs.
Arrival
You will be met upon arrival on Sunday. You will be picked up by the local team and transferred to your accommodation to meet the other international volunteers.
We will provide you with full arrival and contact details when you book your program.
Accommodation & Meals
The accommodation is in shared rooms with other participants. Throughout the trip, you will be accommodated in single-gender shared rooms. 
There are 3 meals per day included during weekdays, and 2 meals on weekends.
Get to know the REAL Bali
Immerse yourself into the local culture
Worthwhile Volunteering in a local project
Join exciting Adventure trips
Gain new experiences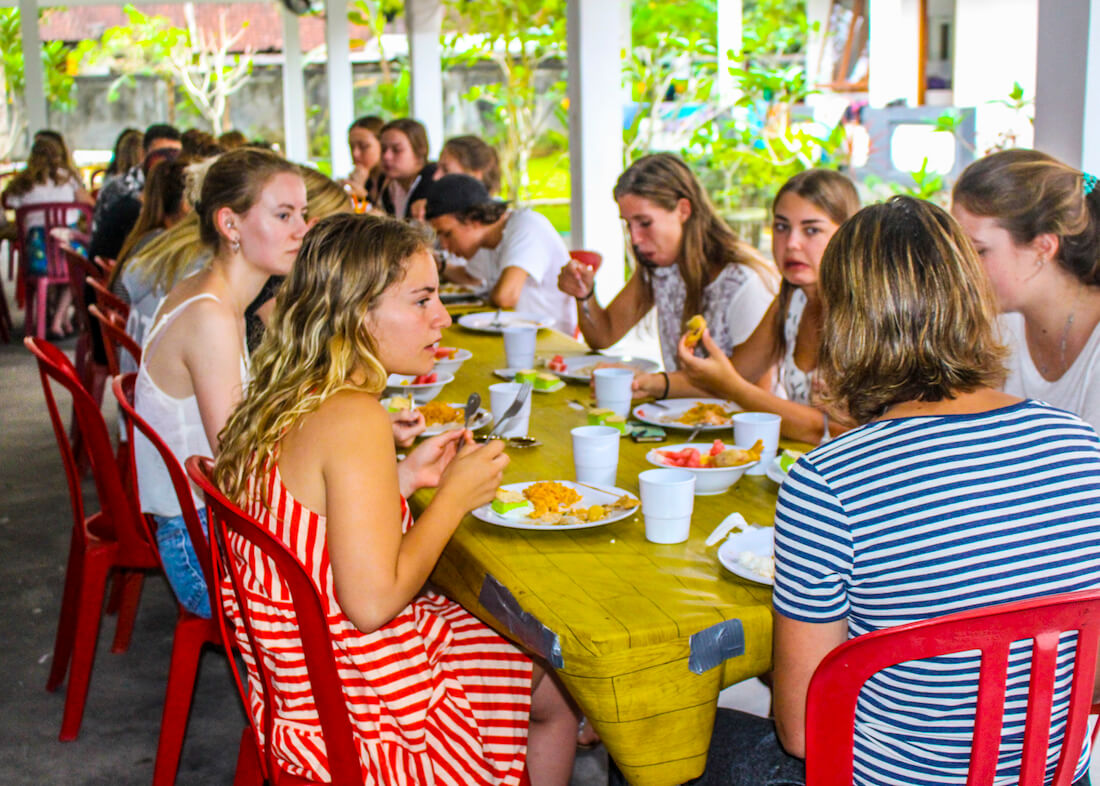 Week 1: Cultural Orientation
Day 1: Monday
You arrive on Sunday in Bali at Denpasar International Airport (DPS). We will pick you up and bring you to your accommodation.
Time to meet other participants and relax from your journey. Welcome to Bali!
Day 2: Monday
On Monday morning, you will start with an introduction to Bali's wonderful traditions & culture.
This will be followed by a walking tour on the popular Monkey Street, from where we go to the Ubud market.
After lunch, you will receive a more in-depth introduction to the Balinese culture.
Finally, we conclude this inspiring day with a traditional Balinese dance show after dinner.
Day 3: Tuesday
Today is time for your first language class!
This will enable you to communicate with the local people, and immerse yourself in the local culture.
In the afternoon, t is time for a movie-like experience. There is a very special walking tour in the rice terraces of Bali!
Enjoy this unique experience that will stay with you for a very long time.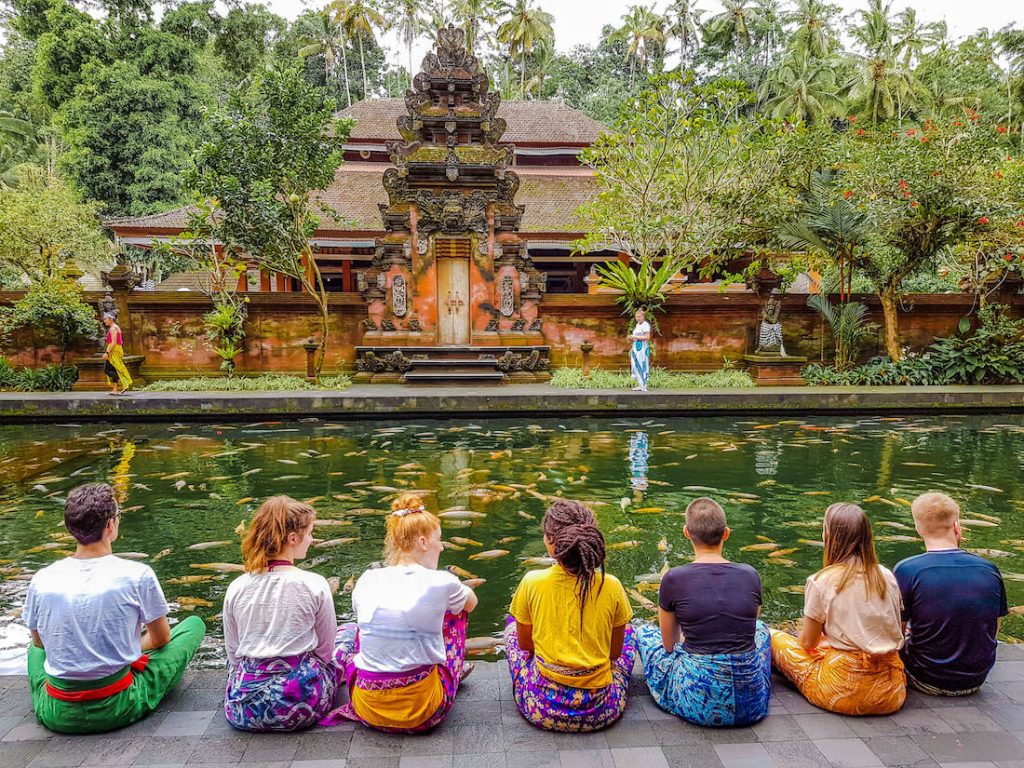 Day 4: Wednesday
Time to get better at the local language with another language class.
In the afternoon, there is a Batik painting class which is. a very special experience.
Day 5: Thursday
Time to cook!
Today you will learn to cook traditional Balinese food in our cooking class.
In the afternoon you will attend a Balinese flower offering class. This is a wonderful local tradition, where you will learn to make a flower offering for the Gods.
Day 6: Friday
An inspiring spiritual tour awaits you today.
You will visit the popular Pura Tirta Empul which is also known as the holy water temple. This is where you can enjoy a bath in the holy waters.
Day 7: Saturday
On Saturday we will visit Jatiluwih and the hot springs.
After this, we go to another beautiful location named, Bedugul Lake Bratan.
And finally, you will head to the Gitgit Waterfalls.
Day 8: Sunday
It is Sunday, so time to enjoy a massage to relax.
The rest of the day is time off.
Week 2: Volunteering
Day 9-13: Monday to Friday
This week is all about giving back and helping in one of the 3 community projects. A great immersion opportunity as well as helping out.
You will be working as a volunteer at a school, in a kindergarten, or at an environmental or healthcare educational project. You can let us know which project you prefer.
In the morning, you will prepare your lessons, and in the afternoon you will go to your school or project to teach the classes.
Click here for more info on the projects
Day 14-15: Saturday to Sunday
After so many activities, it is time to take the weekend off, relax and refresh, and do some sightseeing in Bali.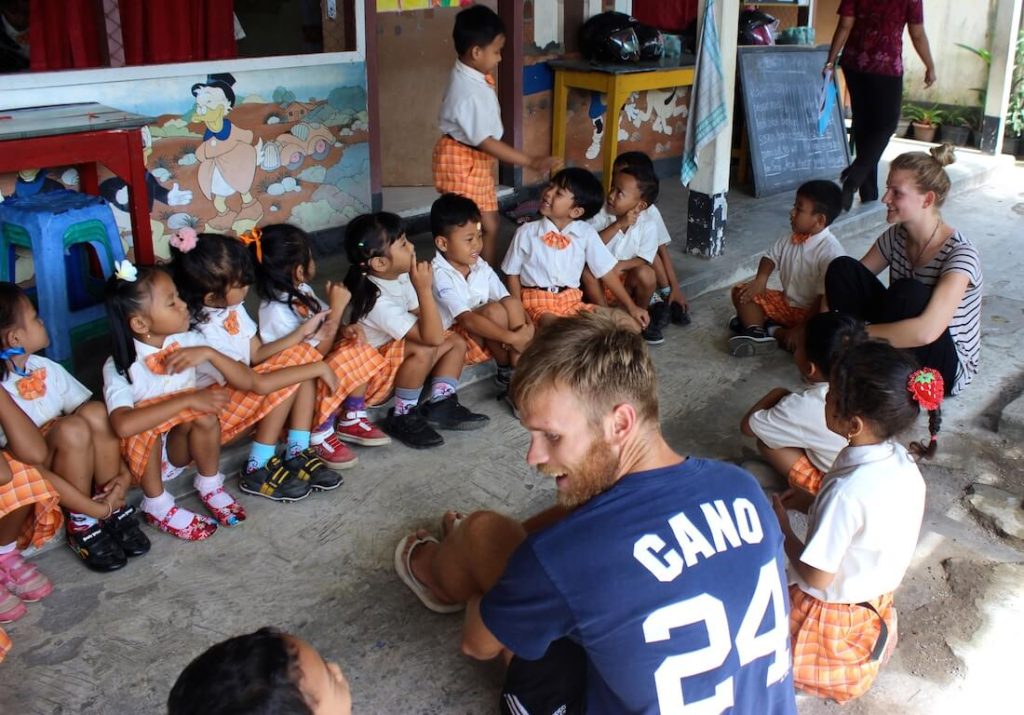 Week 3: Adventure Week
Day 16: Monday
This is the start of adventure week!
We start with a cycling tour, where you will visit the volcanic area of Kintamani.
There you can view amazing Batur Mountain, as well as spice plantations. After this, we explore the rice fields by bicycle.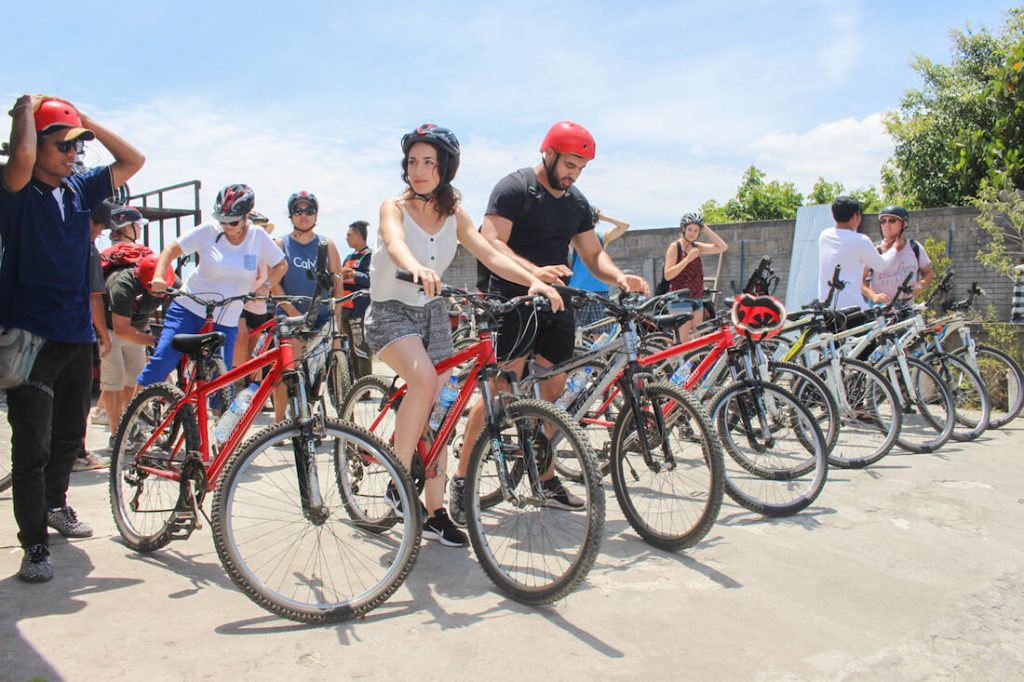 Day 17: Tuesday
Today is a tour to Southern Bali.
You will be going to Jimbaran Beach and the Turtle conservation project in Sanur.
Day 18: Wednesday
Ever done rafting? Well, today is the day!
You are going rafting on Ayung River.
Day 19: Thursday
Today we wake up early and trek up a volcano, to see the sunrise and have breakfast.
After lunch, we descend and take a well-needed rest.
Day 20: Friday
Your last full day in Bali, so time to take it all in, and after a Balinese massage, you can take in wonderful Bali and gather all the wonderful memories that you created during this adventure.
Day 21: Saturday
Today is departure day.  We hope you had the time of your life!
Week 4 (optional): Yoga & Meditation
You have the option to add a fourth week to the program with the Yoga & Meditation Week.
On Monday, we wake up early to start to practice yoga and meditation.
There will be an introduction to the practice of yoga and meditation in the morning.
And after lunch, you will start with the yoga and meditation sessions.
From Tuesday to Friday, you will practice yoga and meditation, and there will be a break to refresh yourself with healthy fresh fruits and tea. There is also some free time built in to enjoy the tranquility you obtained from your yoga and meditation sessions.
Click here for more info
* This schedule can be changed and/or amended depending on weather conditions, local conditions and unforeseen circumstances
5% DISCOUNT WHEN YOU BOOK NOW
1495 Euro
Our base prices are in Euro, but you can pay in Euro, US$ and Pounds. The prices will be at the currency exchange rate from the Euro at the time of payment. Click here to check the prices in your currency
The Yoga and meditation add-on costs 395 Euro
What's included:
The itinerary as stated above
Accommodation (shared room)
3 meals per day on weekdays, and 2 meals per day on weekends
Transport as per itinerary
24/7 in-country support
Pre-departure support
Airport pick-up
Not included:
A 5% international banking fee is added.
Visa, flights, travel insurance, vaccinations, criminal background check, Covid tests (if required), transport to your volunteer project and back to the accommodation every day.
Requirements to join:
Participants need to be minimum 18 years old
Participants under the age of 16 must be accompanied by a parent
Participants aged 16-17 are required to have parental consent
Participants are required to provide a criminal background check
Participants are required to have volunteer travel insurance
Participants might need to have a Covid test done before departure (we will inform you of this)
Book your place in 3 steps :
1. Apply: Fill out the Application Form (click below) and we will let you know if you are accepted within 24 hours.
2. Deposit: Once accepted you pay your deposit (200 Euro or 215 US$) to reserve your place in the program.
3. Remaining Fees: You pay the remaining fees of your program, minus the deposit which you already paid, six weeks before the start date of your program.