Bali Volunteer Projects
Join our volunteer projects in Bali, where we have the best volunteering projects.
You can choose your own project, and combine different projects and create your own tailor-made unique Bali volunteer program!
You can start every Monday, and you can join from 1 week up to 8 weeks.
On the Monday of your first week, there is an orientation by our local team, so you can get comfortable with the surroundings as well as the local culture in Bali.
Join from only 645 Euro!
Location: Ubud & Nusa Penida in Bali
Start Dates: Start every Monday
Duration: 1 week – 8 weeks

Arrival in Bali
You need to arrive at Denpasar International Airport (DPS).
Your airport pick-up is included, and you will be met upon arrival on Sunday. You will be picked up by the local team and transferred to your accommodation to meet the other international volunteers.
We will provide you with full arrival and contact details when you book your program.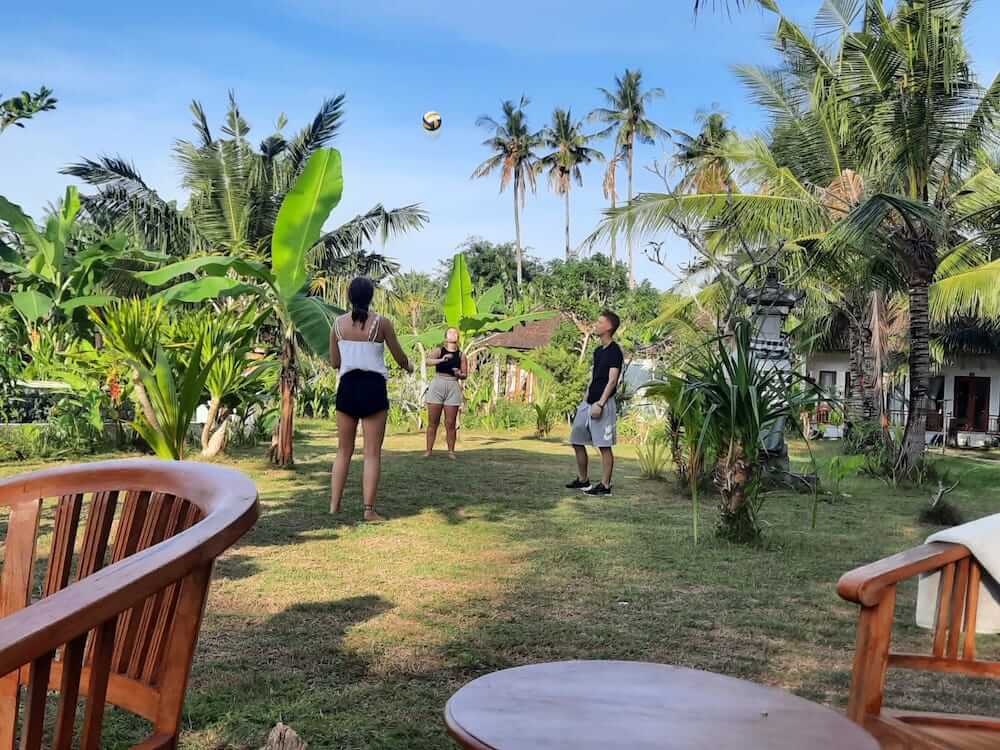 About The Location
Ubud
All projects, except for the turtle project are based in Ubud. You will be accommodated in one of our houses in the village of Pejeng Kaja. Located on the outskirts of Ubud, village life is quintessentially local here and you will get a good chance to see typical Balinese life!
Nusa Penida
Nusa Penida is an island with an approximate area of 247 square kilometers and is located South East to Bali. The island by nature is hilly and drier than Bali. Nusa Penida is popular as a bird sanctuary along with other neighboring islands.
Orientation on Arrival
On the Monday of your first week, there is an orientation by your coordinator, so you can get comfortable with the surroundings as well as the local culture.
There will be an introduction to the program, the accommodation, health and safety advice, Do's and Don'ts, an intro into the local Culture, and a tour around the area where you will be staying.
Accommodation & Meals
Your accommodation is included in the program from when you arrive on Sunday until Saturday morning of your last week.
You will be accommodated in a volunteer house on the outskirts of Ubud, where village life is quintessentially local and you will get a good chance to see typical Balinese life!
The accommodation is in shared single-gender rooms with other international volunteers.
Your meals are included during your program. There are 3 meals included per day from Monday to Friday, and 2 meals per day on weekends.
Vegetarian meals can be arranged, just let us know.
Indonesian food is tasty and diverse and you can expect to experience a myriad of flavors and meals during your stay. Typical dishes included Mie Goreng (fried noodles and vegetables), Nasi Goreng (fried rice and vegetables), or Gado Gado (mixed vegetables with a satay sauce).
For those who do not eat meat, Indonesian cooking uses a lot of tofu and tempeh (soybeans), and some western dishes would also be available.
Breakfasts are varied and include pancakes, fresh fruit, toast, etc. Tea, coffee, and purified water are available at the house. We do not recommend drinking tap water.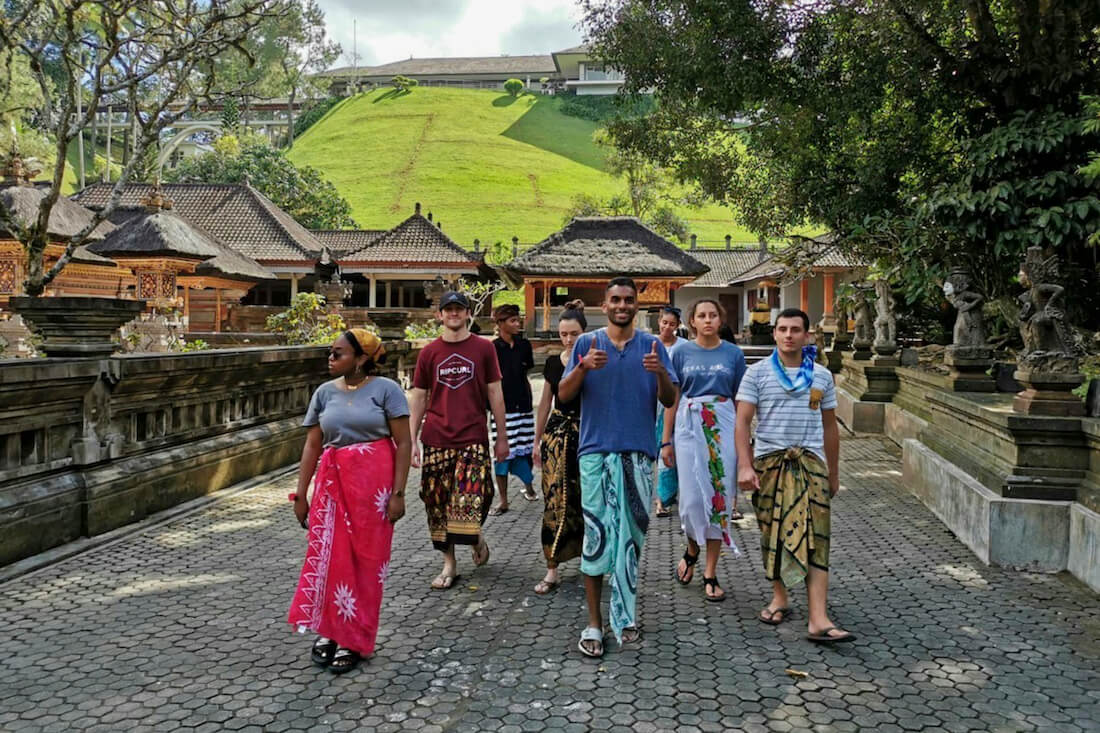 Sights & Surroundings
Since the weekends are free, you can go wherever you please. Several popular destinations that you can reach by taxi are:
The Gili Islands, where you will find small resorts and huts for tourists looking to get away from the bustle of Ubud. The islands are a popular destination for snorkeling and diving due to their abundant marine life.
Nusa Lembongan is an island paradise with one of the clearest waters that you will ever see and it is also a place where you can find peace and completely relax. Surfing, diving, and snorkeling are among the most popular activities that visitors can enjoy.
Lovina, located between the Bedugul mountains and the sea, is popular for dolphin watching, trekking, hot springs, and its gorgeous coral reefs.
Sanur, is a stretch of beach in Southeast Bali that contains villa resorts and Zen Villas. Historically, it was used as the landing site for the Dutch invasion troops during the Dutch invasion in 1906 as well as being the entry point into Bali for the Japanese during WWII.
Kuta, a beach known for its surfing opportunities and party atmosphere.
Uluwatu, a temple built at the edge of a 70-meter high cliff at the edge of the sea and inhabited by monkeys.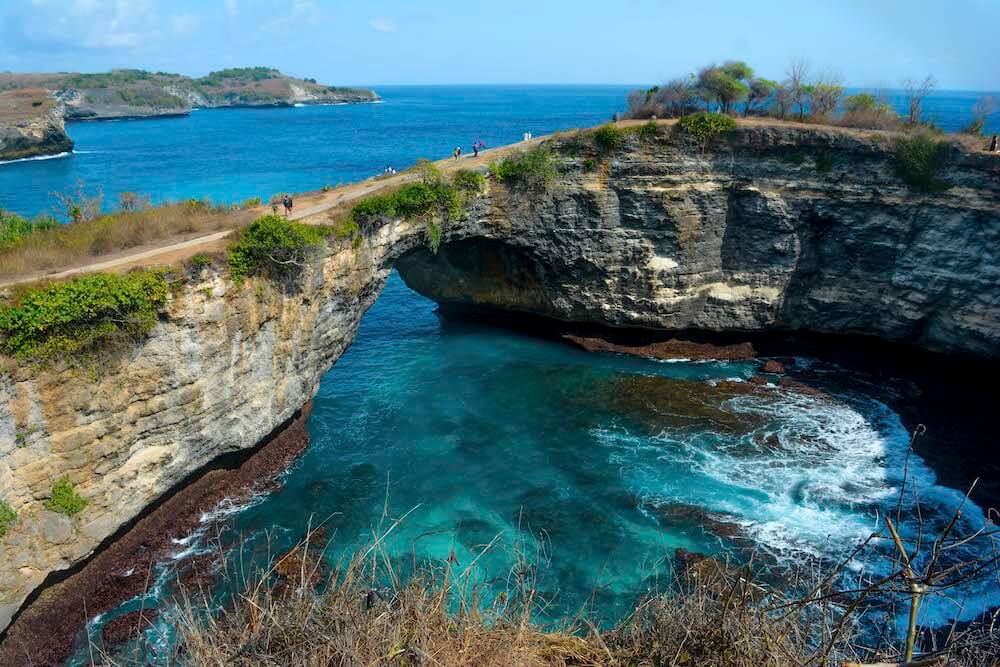 Unique Cultural Experiences
Sustainable Worthwhile Projects
Receive Top Quality Support
Meet International Volunteers
Our Projects in Bali
These are the different projects that we have available in Bali. You can combine the different projects if you want, and create your on unique volunteer schedule in Bali.
1 Week: 645 Euro
2 Weeks: 799 Euro
3 Weeks: 999 Euro
4 Weeks: 1199 Euro
+1 Week: 199 Euro
* For the construction project there is an extra fee of 35 Euro per week
** For the yoga week and the turtle project there is an extra fee of 145 Euro per week
*** For the adventure week there is an extra fee of 175 Euro per week
The turtle project is for minimum 2 weeks
Our base prices are in Euro, but you can pay in Euro, US$ and Pounds. The prices will be at the currency exchange rate from the Euro at the time of payment. Click here to check the prices in your currency.
With us there are NO Registration Fees, NO administration fees, and you can easily combine the different projects

What's included:
Volunteer program
Accommodation (shared room)
Meals
24/7 in-country support
In-country program orientation
Pre-departure support
Airport pick-up
Not included:
A 5% international banking fee is added
Visa, flights, travel insurance, vaccinations, criminal background check, Covid tests (if required), transport to your volunteer project and back to the accommodation, return trip to the airport
Requirements to join:
Volunteers need to be minimum 18 years old
Volunteers are required to provide a criminal background check
Volunteers are required to have volunteer travel insurance
Volunteers might need to have a Covid test done before departure (we will inform you of this)
Book your place in 3 steps :
1. Apply: Fill out the Application Form (click below) and we will let you know if you are accepted within 24 hours.
2. Deposit: Once accepted you pay your deposit (200 Euro) to reserve you place in the program.
3. Remaining Fees: You pay the remaining fees of your program, minus the deposit which you already paid, six weeks before your start date of your program.