Bali Volunteer And Travel
In Bali we have 8 amazing meaningful travel & volunteering programs available in 2023!
Our Bali programs are exciting and rewarding programs that will give you an experience that you will remember for a very long time!
You can create your own volunteer schedule from 8 projects. Also we have the Bali Discovery program available. 
Doing a volunteer program in Bali Indonesia provides a unique & worthwhile experience, especially with our experience and immersion programs. It is a great way to gain new experiences, adventures, and skill sets while at the same time learning about the local culture and people.

Bali Discovery
The Bali Discovery is our flagship program! This is an amazing 3-week experience of Bali. What you will get is unique cultural experiences, worthwhile volunteer projects, and exciting adventure travel.
CLICK HERE TO FIND OUT MORE
Unique Cultural Experiences
Sustainable Worthwhile Projects
Receive Top Quality Support
Meet International Participants
Join the best volunteer trips in Bali Indonesia with various volunteer abroad opportunities including teaching English at a school, being a teacher at a kindergarten, community activities, and construction projects for short-term 2 weeks up to long-term for travelers, students, families, and adults.
This is great for international volunteers who want to help to make a difference and give their free time and effort to local children and people with ethical volunteering work programs, and meaningful travel programs.
These are the volunteer projects that you can join:
Teaching English Program
Kindergarten Program
Environmental Education Program
Healthcare Education Program
Turtle Conservation Rehabilitation
Construction and Renovation
Yoga & Meditation
Bali Discovery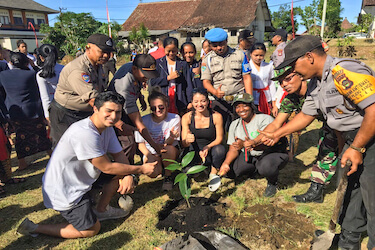 Click here for our 8 Bali Volunteer projects, Create your own unique volunteering schedule in wonderful Bali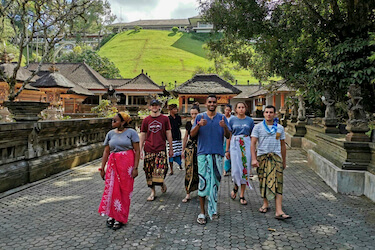 Our Bali Discovery is our unique 3-week volunteer & travel program for an amazing experience in Bali
Why volunteer in Bali?
If you want to give back to the community and make a difference, you might be wondering how to go about volunteering in Bali. There are many great opportunities available, including teaching English or working with the environment.
If you're interested in teaching English abroad, you might be interested in volunteering in Bali. Teaching English as a volunteer in Bali is a great way to give back to the local community. It will allow you to experience a completely different culture. Children in Bali are eager to learn about the English language, and if you can make teaching fun, they'll be receptive.
As a volunteer, you'll be able to help by teaching English to local students in local schools and kindergartens. You'll be able to engage in cultural exchanges with the local teachers, and you'll be able to improve your skills by incorporating new ideas into your teaching.
A local teacher will be on hand to guide and assist them as needed. Volunteers are also encouraged to incorporate other activities in the lessons to engage their students.
Volunteers can teach English in Bali to local children. Most volunteers will work as assistants to local teachers, and at times, they will be left in charge of the class. 
Volunteering in Bali is an amazing experience, and you'll be able to get to know the local culture and language through the volunteer program you'll participate in.
Volunteering in Bali is a great way to give back while also having a fantastic experience. Volunteering abroad in Bali is a wonderful way to meet new people and make a positive impact on the local community.