Volunteer in Cambodia
Join our volunteer programs in Siem Reap Cambodia, where we have the best volunteering projects in Cambodia in 2023.
You can choose your own project, and combine different projects and create your own tailor-made unique Cambodia volunteer program!
You can start every Monday, and you can join from 1 week up to 8 weeks.
On the Monday of your first week, there is an orientation by our local team, so you can get comfortable with the surroundings as well as the local culture in Cambodia.
Location: Siem Reap, Cambodia
Start Dates: Start every Monday
Duration: 1 week – 8 weeks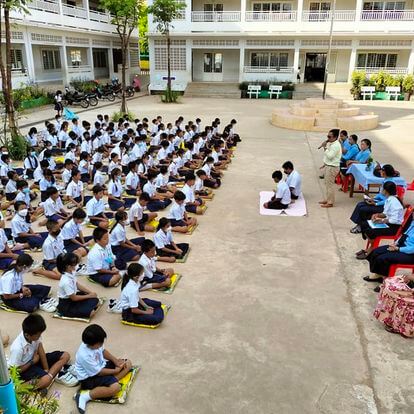 Unique Cultural Experiences
Sustainable Worthwhile Projects
Receive Top Quality Support
Meet International Volunteers
Arrival in Siem Reap, Cambodia
The projects are based in exciting Siem Reap.
Your airport pick-up is included, and you will be met upon arrival on Sunday. You will be picked up by the local team and transferred to your accommodation in Siem Reap to meet the other international volunteers.
You need to arrive at the international airport of Siem Reap.
We will provide you with full arrival and contact details when you book your program.
Orientation on Arrival
On the Monday of your first week, there is an orientation by your coordinator, so you can get comfortable with the surroundings as well as the local culture.
There will be an introduction to the program, the accommodation, health and safety advice, Cambodian Do's and Don'ts, an intro to Cambodian Culture, and a tour around the area where you will be staying.
Accommodation & Meals
Your accommodation is included in the program from when you arrive on Sunday until Saturday morning of your last week.
The accommodation is in shared rooms with other volunteers. Throughout the journey, you will be accommodated in single-gender dorm-style rooms.
Your meals are included during your program. There are 3 meals included per day from Monday to Friday, and 2 meals per day on weekends. Vegetarian meals can be arranged.
Our Volunteering Projects in Siem Reap, Cambodia
Culture Week
Get ready for an adventure-packed week that will immerse you in the beauty, excitement, and serenity of Cambodia! Discover the vibrant city of Siem Reap, a hub of activity and culture with an electrifying nightlife and a world-renowned temple nearby. Then, explore the hidden gems of the picturesque Cambodian countryside, where you'll experience the daily life of the locals firsthand.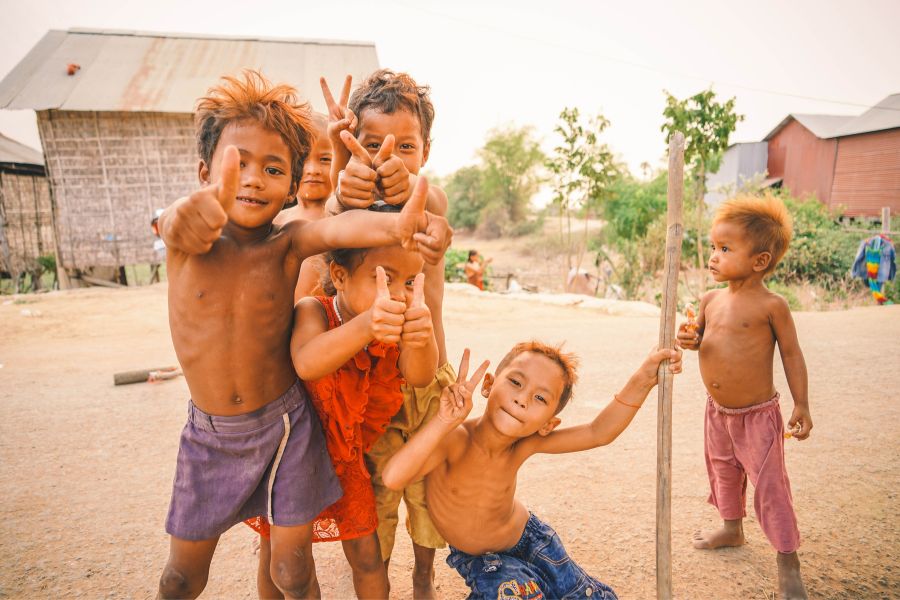 Our culture week is specially designed to introduce you to the rich customs and traditions of Cambodia. By familiarizing yourself with the town and its amenities, you'll have all the tools you need to make your stay comfortable and unforgettable. And of course, no trip to Cambodia is complete without a visit to its breathtaking temples! Siem Reap boasts some of the most magnificent Buddhist temples in the world, and you'll have the opportunity to explore them and even chat with local monks to deepen your understanding of Buddhism.
But that's not all! Throughout the week, you'll stay in the heart of Siem Reap, where you'll learn essential survival phrases in the local language and master the art of traditional Cambodian cuisine. And as you soak up the laid-back and relaxed pace of life in Cambodia, you'll have plenty of opportunities to connect with the friendly locals, who are just as eager to learn about your culture as you are about theirs.
Just remember to dress modestly outside of your accommodation, covering your shoulders and legs as a sign of respect for the local community. Get ready for a week you'll never forget – packed with adventure, culture, and unforgettable experiences!
Get ready for an adventure-packed week in Cambodia with The Global Experience! Your trip begins with a bang as you're whisked away from Siem Reap International Airport to your accommodation center. The local staff will give you a short briefing to get you pumped up for the week ahead, and then it's time for a delicious dinner to fuel you up for the fun ahead.
On Monday, you'll kick off your morning with a tasty breakfast before getting an introduction to TGL Cambodia, along with some house rules, health and safety advice, and a lesson on Khmer culture. After lunch, you'll head out to explore the old market, bank, and ATM, and grab a SIM card if you need one. You'll also visit a Buddhist temple and soak up the vibrant atmosphere of Pub Street and the night market.
Tuesday morning starts off with another delicious breakfast, followed by a bicycle tour to see how the local people live. You'll stop for lunch before continuing the tour in the afternoon. Afterward, you'll enjoy a mouth-watering BBQ dinner at your accommodation center.
Wednesday is all about food as you dive into Khmer cooking lessons in the morning, followed by a lunch to savor. In the afternoon, you'll tackle Khmer language lessons and get a chance to practice your new skills during dinner.
On Thursday morning, you'll participate in a traditional food offering to the monks at a local temple before enjoying lunch. In the afternoon, you'll take in stunning views from Phnom Krom, a mountain near Tonle Sap Lake, before returning to your accommodation for dinner.
Friday morning starts with breakfast, followed by an art and craft lesson. After lunch, you'll have a project meeting and orientation to prepare you for the week ahead. Saturday is your last morning, and you'll enjoy a leisurely breakfast before saying goodbye to Cambodia.
Remember, this schedule is subject to change depending on weather conditions, unforeseen circumstances, and local conditions.
Teaching Project
Come make a difference in the lives of the amazing children of Siem Reap! Join us on this thrilling adventure where you will not only teach English, but inspire and motivate the students to take important steps in their lives. The schools we work with are located at the center of the Siem Reap town in Wat Svay Village, Sala Kamreuk Commune. You'll be working alongside local teachers and participants, taking turns providing instruction during the course of the session. This allows for smaller group engagement and one-on-one help for students who may be struggling with the materials.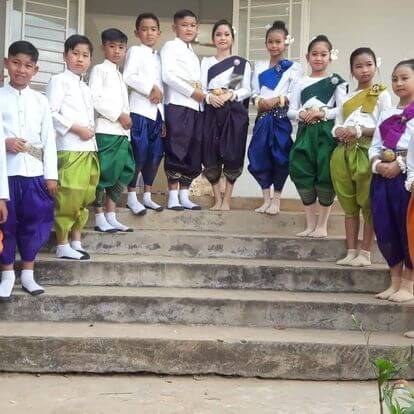 Our curriculum accommodates beginners all the way up to level 5, and most of our students currently possess just a basic level of English. Class sizes range from 10-45 students and classrooms are equipped with basic teaching resources. However, we encourage you to bring small learning materials to use in your class and/or donate to our school, to broaden the curriculum and teaching possibilities.
You don't need special qualifications to volunteer – we welcome anyone who wants to provide help, whether it's enabling children to hear English pronunciation by native speakers, providing additional help with other academic subjects, or sharing basic hygiene and sanitation routines. Your main role will be to teach English alongside local teachers, prepare lesson plans and exams, and organize fun games and learning exercises.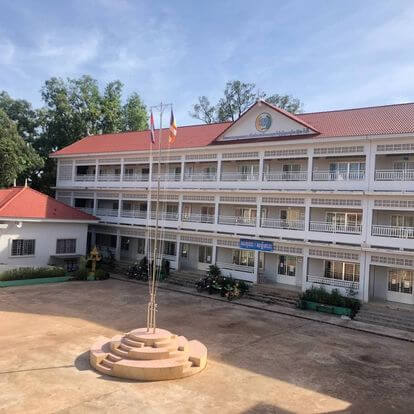 Aside from the teaching aspect, you'll have the opportunity to gain invaluable and practical experience, engage in a cultural exchange, and assist the local staff and teachers by providing an extra hand. Our program aims to improve the children's educational prospects and provide them with learning tools to create a better future for themselves.
Your week will be filled with exciting activities, from orientation and introduction sessions to class observation and teaching sessions. You'll also have time to prepare for the next day's lessons, and engage in other activities conducted at the schools. And on Saturdays, you'll have a chance to explore the beautiful city of Siem Reap.
This adventure can be life-changing for both you and the children you teach. So why wait? Come join us and make an impact in the lives of these incredible kids! Please note that our schedule is subject to change depending on weather and unforeseen circumstances.
Construction Project
Looking for a new adventure outside your comfort zone? Get ready to roll up your sleeves and dive into a construction project that will help underprivileged communities in Cambodia! Join us as we work on renovating and building communal infrastructures in the Siem Reap area, including local schools that serve children from nearby villages.
But don't worry, it's not all work and no play! Siem Reap is a vibrant and exciting city that offers plenty of opportunities for cultural exchange and exploration. From the world-famous Angkor Wat to the colorful cafes and serene waterways, there's something for everyone in this jewel of Southeast Asia. During your free time, you can check out the floating village, silk farm, war museum, night markets, and more. And don't forget to savor the delicious local cuisine!
As a volunteer, your main role will be to assist with construction and renovation projects as needed. This could include anything from building new classrooms to repairing school walls, making tables and chairs, and more. You'll gain valuable practical experience while helping to improve the quality of life for underprivileged citizens in the area.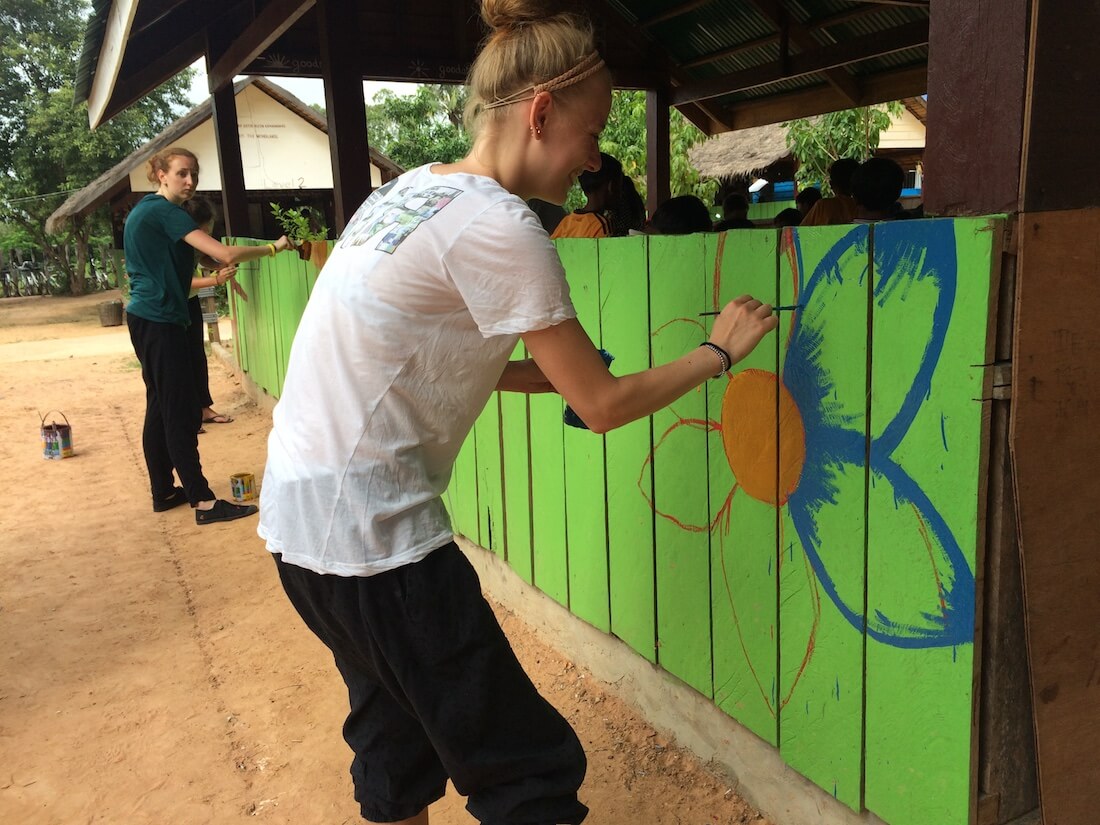 Our schedule is flexible and subject to change based on weather and local conditions, but generally, you can expect to work on construction projects Monday through Friday, with time for exploration and cultural exchange in the evenings and on weekends. So come join us and make a difference while having the adventure of a lifetime!
Price of our Cambodia Volunteer Programs
1 Week: 625 Euro
2 Weeks: 845 Euro
3 Weeks: 1065 Euro
4 Weeks: 1285 Euro
+1 Week: 225 Euro
With us there are NO Registration Fees, NO administration fees, and you can easily combine the different projects

What's included:
Volunteer program
Accommodation (shared room)
Meals
24/7 in-country support
In-country program orientation
Pre-departure support
Airport pick-up
Not included:
A 5% international banking fee is added.
Visa, flights, travel insurance, vaccinations, criminal background check, Covid tests (if required), transport to your project and back to the accommodation every day, return trip to the airport, transfers between different locations.
Requirements to join:
Volunteers need to be minimum 18 years old
Volunteers are required to provide a criminal background check
Volunteers are required to have volunteer travel insurance
Volunteers might need to have a Covid test done before departure (we will inform you of this)
Book your place in 3 steps :
1. Apply: Fill out the Application Form (click below) and we will let you know if you are accepted within 24 hours.
2. Deposit: Once accepted you pay your deposit (100 Euro) to reserve you place in the program.
3. Remaining Fees: You pay the remaining fees of your program, minus the deposit which you already paid, six weeks before your start date of your program.