Cambodia Volunteer Programs
Join our volunteer programs in Cambodia, where we have the best volunteering projects in 2023.
You can choose your own project, and combine different projects and create your own tailor-made unique Cambodia volunteer program!
You can start every Monday, and you can join from 2 weeks up to 8 weeks.
On the Monday of your first week, there is an orientation by our local team, so you can get comfortable with the surroundings as well as the local culture in Cambodia.
Location: Samraong, Cambodia
Start Dates: Start every Monday
Duration: 2 weeks – 8 weeks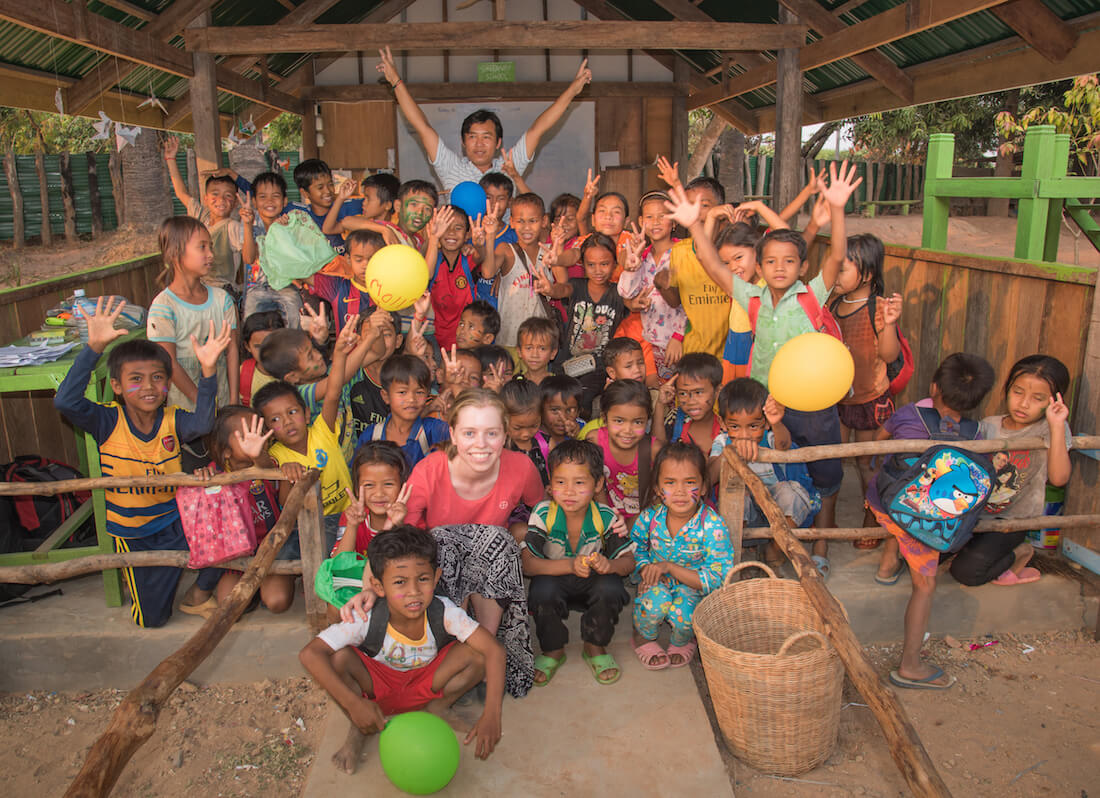 Unique Cultural Experiences
Sustainable Worthwhile Projects
Receive Top Quality Support
Meet International Volunteers
Arrival in Siem Reap, Cambodia
The projects are based in exciting Samraong, about a 2-hour drive from Siem Reap.
Your airport pick-up is included, and you will be met upon arrival on Sunday. You will be picked up by the local team and transferred to your accommodation in Samraong to meet the other international volunteers.
You need to arrive at the international airport of Siem Reap.
We will provide you with full arrival and contact details when you book your program.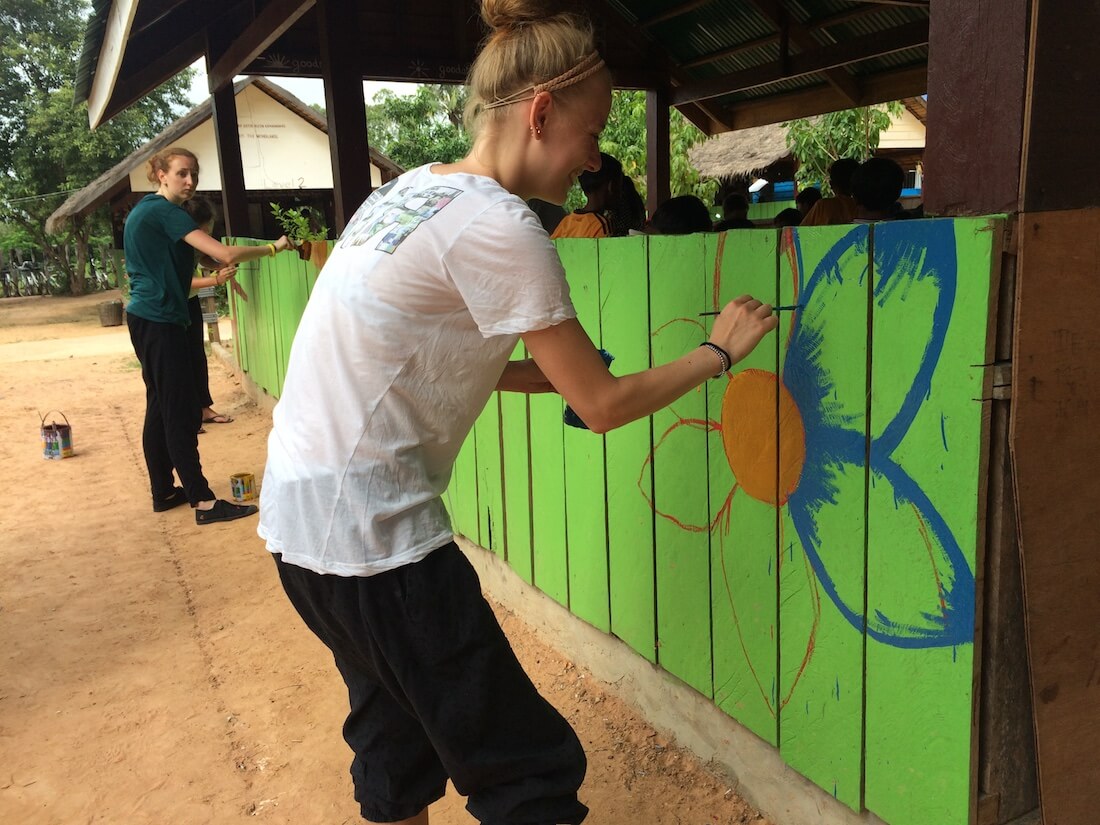 Orientation on Arrival
On the Monday of your first week, there is an orientation by your coordinator, so you can get comfortable with the surroundings as well as the local culture.
There will be an introduction to the program, the accommodation, health and safety advice, Cambodian Do's and Don'ts, an intro to Cambodian Culture, and a tour around the area where you will be staying.
Accommodation & Meals
Your accommodation is included in the program from when you arrive on Sunday until Saturday morning of your last week.
The accommodation is in shared rooms with other volunteers. Throughout the journey, you will be accommodated in single-gender dorm-style rooms.
Your meals are included during your program. There are 3 meals included per day from Monday to Friday, and 2 meals per day on weekends. Vegetarian meals can be arranged.
Our Volunteering Projects in Cambodia
Greenway School
Teach English to the children who come to our school in the countryside of Cambodia!
Children from less privileged homes can learn English at the Greenway School in Samraong's Pul hamlet. Our local teachers will assist you in planning lessons and leading your class while implementing our well-organized curriculum and regular testing schedules. You could work as a team with other international teachers or teach by yourself.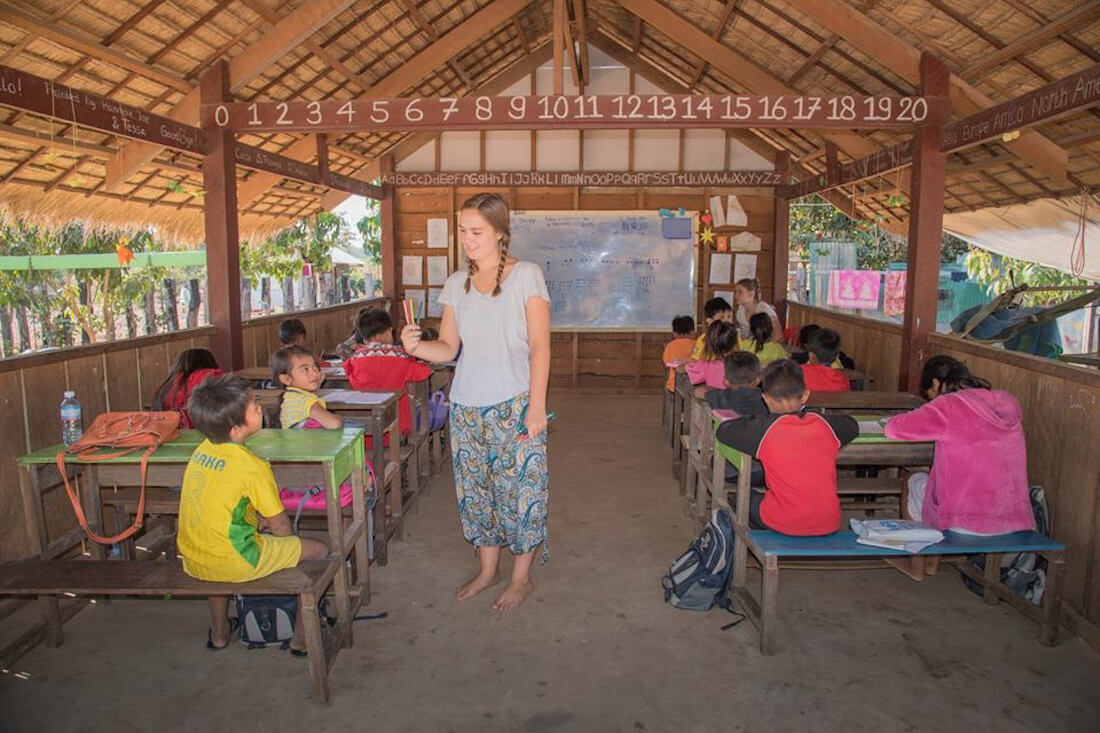 The children are eager to learn and are extremely appreciative of those who can assist them with their educational development. The school was designed, built, and completely operated by volunteers.
Since beginning his work with this rural Samraong community in 2008, Mr. Ya Nuth has become a leader in the local community. His efforts in developing local schools and hospitals, with the help of those like yourself, have had an immeasurably positive effect on the community. In 2013, the Greenway School was opened, offering a free educational/learning opportunity for those who couldn't otherwise afford it.
Students attend a regular public school for three hours per day, where they don't get the chance to learn a lot of English. The public school shifts are divided into a morning group and an afternoon group, giving the children a chance to come to our school during their free time (e.g. the morning group can attend our afternoon shift and vice versa). What is so unique and amazing about the Greenway School, is that the children come of their own accord and truly enjoy their time here.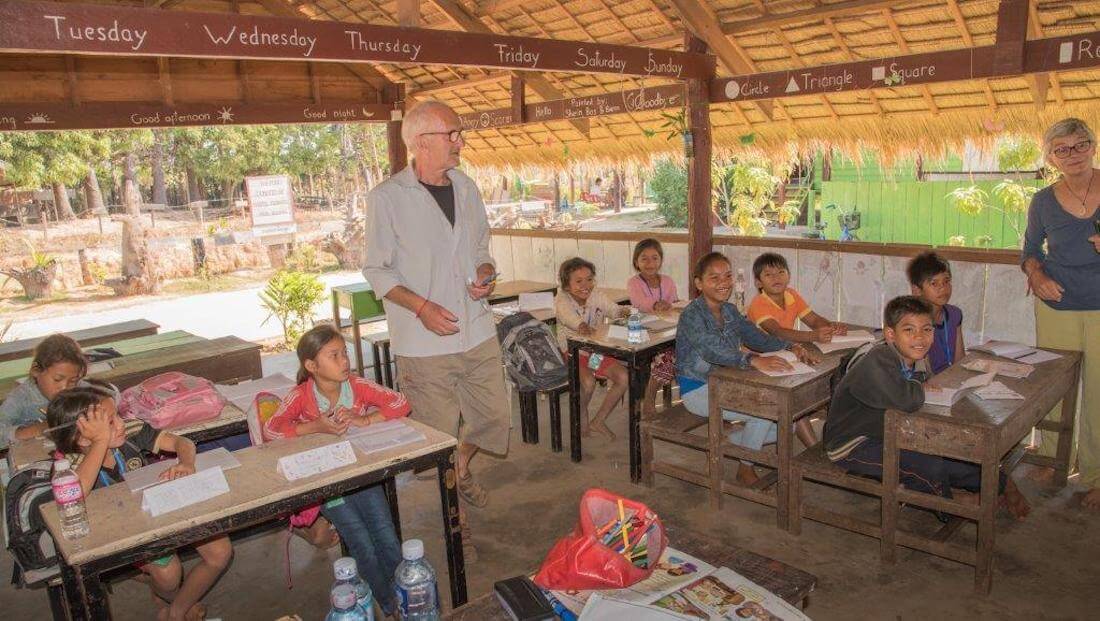 Teaching takes place in a traditional classroom setting. However, we are very flexible and encourage you to be creative in your lesson planning. The most important thing to consider is that you remain within the scope of the established curriculum and its schedule.
Participants can expect to work alongside other local teachers or participants. This could mean 3-5 participants taking turns providing instruction during the course of the session. This could allow for smaller group engagement and when needed, one-on-one help for students who may be having challenges with the material. There will be an orientation before starting your work with students. During that orientation, the exact size, level of assignment, and members of the teaching team will be determined.
To facilitate maximum learning and comprehension, you will need to continue the pace that has been set by school directors for the class you are working with. In order to ensure that the material is covered fully and the schedule is maintained, you will not be allowed to skip ahead. All participants will follow the prescribed curriculum and provide adequate review, which will allow students to be better prepared for weekly progress and end-of-year assessment tests.
The children who come to Greenway School, come from the Pul village, as well as five other surrounding villages. Their ages range from 6 to 15. Most currently possess just a basic level of English, but using our established curriculum, we are able to accommodate beginners all the way up to level 5.
Class sizes are typically between 10-30 students. Classrooms are equipped with basic teaching resources, such as a whiteboard and flash cards. You are highly encouraged to bring small learning materials and items to use in your class and/or donate to our school. These things are gratefully received and help to broaden the curriculum and teaching possibilities that we can offer.
The primary mode of transport to and from the accommodation/school will be on bicycles.
The core focus of the teaching project will depend upon the needs of the school at that particular point in time. Your main roles will be (but are not limited to):
Preparing English lesson plans
Teaching English
Administering weekly progress tests
Besides passing on your English knowledge, you may also be able to share some basic hygiene and sanitation routines, as well as, your own experiences and cultural background.
Aims & Objectives
Improve village children's educational prospects
Provide learning tools that empower students to create a better future for themselves
Gain invaluable, practical experience in teaching
Facilitate a cultural exchange which broadens the perspectives of all engaged
Assist the local staff by providing an extra hand
Schedule
Monday to Friday
Teaching time with the students is divided into two shifts, with lunch and free time back at the accommodation in between. The first shift begins in the morning from 08:00 -11:00 while the afternoon shift is from 14:00 – 17:00. You should also expect to spend time working on the next day's activities/exercises, so that you are prepared and comfortable for the duration of the lesson.
This schedule can be changed and/or amended depending on weather conditions, local conditions and unforeseen circumstances.
Construction Project
Get your hands dirty, as you help underdeveloped communities in Cambodia, with some construction and renovation work!
The main construction site for this project is located in a local school that is allocated to the poor, however, you can also expect to help elsewhere, in areas where construction assistance is needed. You can gain valuable experience, as well as have a great cultural exchange with the local Cambodian people!
On this project, you will get your hands dirty with construction assignments. Our main construction focus is working at our own school, which has been allocated as an educational resource for the children of poor villagers.
This school was built with the support and sweat equity of helpers like yourself, along with skilled local tradesmen. Today, more than three hundred children attend classes here daily.
Despite previous efforts, the work here is far from done and we continue to construct new buildings, pathways, toilets, walls, drainage systems for rain run-off, etc. to meet the needs of all those using the facility.
Those with artistic talent can help decorate the walls by creating murals and paintings of their home countries and cultures. We have a feeling that this will be a nice way of reflecting the good, hard work that has been done by people like yourself over previous years.
Other construction efforts might be carried out in the local village (renovating and building houses and sanitation facilities) or working on construction projects at the local hospital – this very much depends on the needs of the particular time. So what you can expect from your efforts is to be directing and implementing your construction skills wherever they are needed most!
Activities focus on light construction work and you will be expected to help paint the school buildings, make tables & chairs, construct and renovate the playground, make pathways, build toilets, repair the school walls and help build new classrooms. You can look forward to working out in the local community if construction and renovation jobs arise.
Aims & Objectives
Improve the quality of life for underprivileged citizens in and around Samraong
Assist the locals with construction and renovation efforts in an organized team
Create cultural exchange opportunities through our efforts with the locals
Gain practical experience in light renovation work
Schedule
Monday to Friday
After breakfast, you will head off to the construction project; this will mainly be at our school, homes of local residents and local community facilities. There you will be briefed on your tasks for the day by our coordinator. You can expect to engage in construction and renovation work at the project location for 4-5 hours per day with a lunch break in between. Lunch can be at our accommodation or near the project site.
This schedule can be changed and/or amended depending on weather conditions, local conditions and unforeseen circumstances.
Price of our Cambodia Volunteer Programs
2 Weeks: 870 Euro
3 Weeks: 1099 Euro
4 Weeks: 1335 Euro
+1 Week: 235 Euro
* For the construction project there is an extra fee per week of 35 Euro
Our base prices are in Euro, but you can pay in Euro, US$ and Pounds. The prices will be at the currency exchange rate from the Euro at the time of payment. Click here to check the prices in your currency.
With us there are NO Registration Fees, NO administration fees, and you can easily combine the different projects
What's included:
Volunteer program
Accommodation (shared room)
Meals
24/7 in-country support
In-country program orientation
Pre-departure support
Airport pick-up
Not included:
A 5% international banking fee is added.
Visa, flights, travel insurance, vaccinations, criminal background check, Covid tests (if required), transport to your project and back to the accommodation every day, return trip to the airport, transfers between different locations.
Requirements to join:
Volunteers need to be minimum 18 years old
Volunteers are required to provide a criminal background check
Volunteers are required to have volunteer travel insurance
Volunteers might need to have a Covid test done before departure (we will inform you of this)
Book your place in 3 steps :
1. Apply: Fill out the Application Form (click below) and we will let you know if you are accepted within 24 hours.
2. Deposit: Once accepted you pay your deposit (200 Euro or 215 US$) to reserve you place in the program.
3. Remaining Fees: You pay the remaining fees of your program, minus the deposit which you already paid, six weeks before your start date of your program.