Cape Verde Discovery
15 Days/14 Nights
Worthwhile Volunteering Projects.
Unique Cultural Experiences.
Exciting Adventure Travel.
The Cape Verde Discovery is a 2-week tour that gives you unique travel, cultural & volunteering experiences, where you will immerse yourself in community projects, and join fantastic trips, whilst receiving top-quality support during your trip to Cape Verde.
The 15-day Cape Verde Discovery is the ultimate Community Engagement, Cultural Immersion, and Adventure Tour for Peru.
This tour has got everything that a cultural enthusiast could wish for. You will create unforgettable life-changing experiences, make friends for life, have a lot of fun, and all of this while exploring the beauty and unique culture of Cape Verde.
This responsible travel trip is designed and crafted to give you an understanding of the local history, its people, and its flora and fauna, a perfect way to discover the real Cape Verde!
Start Dates 2022:
18 December
Start Dates 2022:
1 January, 15 January, 5 February 2023, 19 February, 5 March, 19 March, 2 April, 16 April, 7 May, 21 May, 4 June, 18 June 2023, 2 July, 16 July, 6 August, 20 August, 3 September, 17 September, 1 October, 15 October, 5 November, 19 November, 3 December, 17 December

Cultural Immersion Experiences

100%

100%

Worthwhile Volunteer Projects

100%

100%

Exciting Adventure Travel

100%

100%
Unique Cultural Experiences
Immerse Community Projects
Join Fantastic Worthwhile Trips
Receive Top Quality Support
Location
The island of Santiago, considered the most African of all and where the contrasts are clearest, offers an infinity of mountains and valleys, paths, and trails, on what is the largest island in the archipelago. Enter a world of natural beauty, unique culture, Portuguese ambiance, landscape richness, and unspoiled beautiful sandy beaches.
Your 15-day experience in Santiago is going to be stress-free for sure! Immerse yourself in the local culture, meet the ever-friendly people, explore the mountains and their sandy beaches and learn and give back in this not-so-common holiday destination.
Your responsible travel trip is designed and crafted to give you an understanding of the archipelago's history, its people, and its flora and fauna. During your 2 weeks on the Island of Santiago. Your trip beings in the small quiet city of Tarrafal where you will learn the local language, learn or polish your Portuguese cooking skills, hike into the Serra da Malagueta mountains, visit the bustling local markets, contribute your time working at the local kindergarten and in participating in various activities in conserving the marine life and its natural habitat.
Accommodation & Meals
Throughout the journey, you will be accommodated in basic but clean single-gender shared rooms. All meals are included as per itinerary below.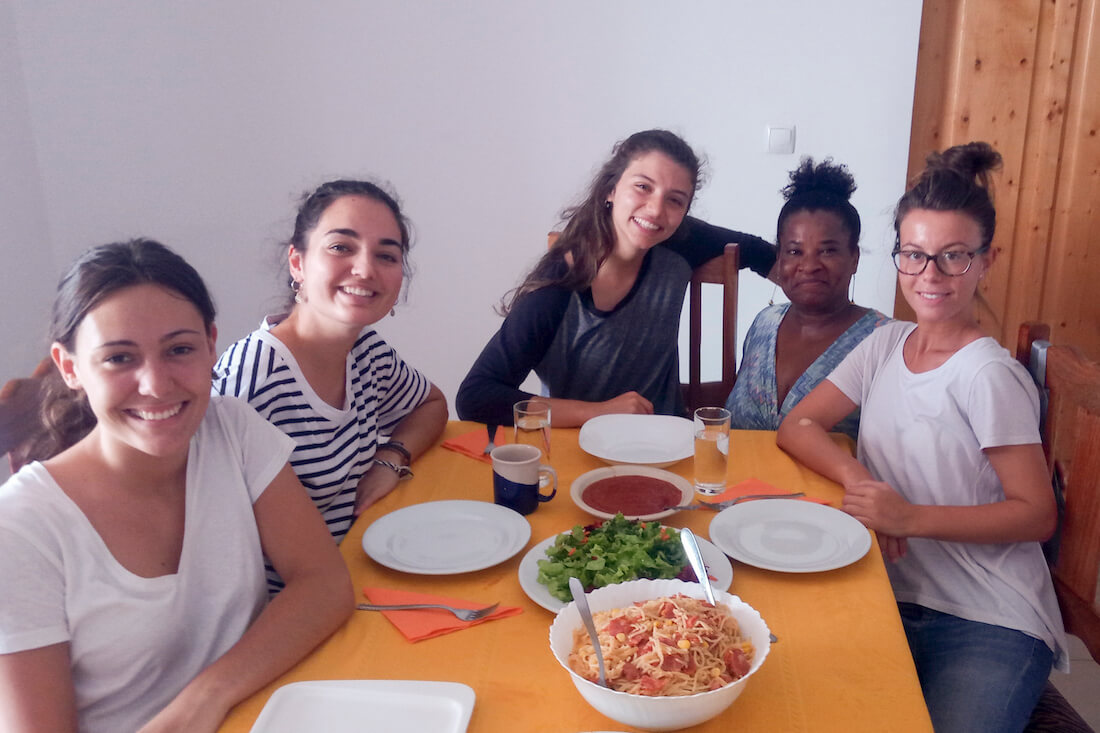 Cape Verde Discovery Schedule
Day 1 (Sunday): Arrival and pick up.
Praia
Today you will arrive in Cape Verde to start your adventure!
You will be picked up at Praia International Airport (RAI), and taken to Tarrafal to settle down in the accommodation and meet your new camp buddies. Full arrival details will be provided upon booking, do not book your flight until you receive this.
Meals: Dinner
Day 2 (Monday): Orientation Session & Local Tour
Tarrafal
Today is your day to get to know your local coordinator who will introduce you to the do's and don'ts in Cape Verde, the local culture, and your program.
After this, we head out to learn about the Island's history and visit the museum.
We also walk into the local markets and the supermarkets in the area.
After lunch, we walk a few minutes to the beautiful beach of Tarrafal to soak in the atmosphere and spend time at the beach catching the beautiful sunset over the Atlantic ocean! Wow!
Meals: Breakfast/Lunch/Dinner
Day 3 (Tuesday): Cooking Class
Santiago Island
After breakfast, you will attend a one-hour Basic Kriolu class to continue your course. Today you will learn how to talk about Days of the Week and Months in Kriolu.
You then have the opportunity to witness a local cooking lesson, wherein you will learn to cook Cachupa which is a famous dish from the Cape Verde islands.
In the afternoon, you will visit Ribeira Das Pratas which is the black sand beach.
A jam-packed day!
Meals: Breakfast/Lunch/Dinner
Day 4, 5, 6 (Wednesday): Volunteering
Tarrafal
Today will be the day to meet the local teaching community.
Soon after breakfast, we walk to the local kindergarten where we have been associated. Our coordinator will introduce you to the local staff and the children at the school.
You will spend time at the school to get a hang of how the day goes about at the kindergarten. Take time to sing and play with the children who are always more than happy to meet people such as you.
A fantastic volunteering experience!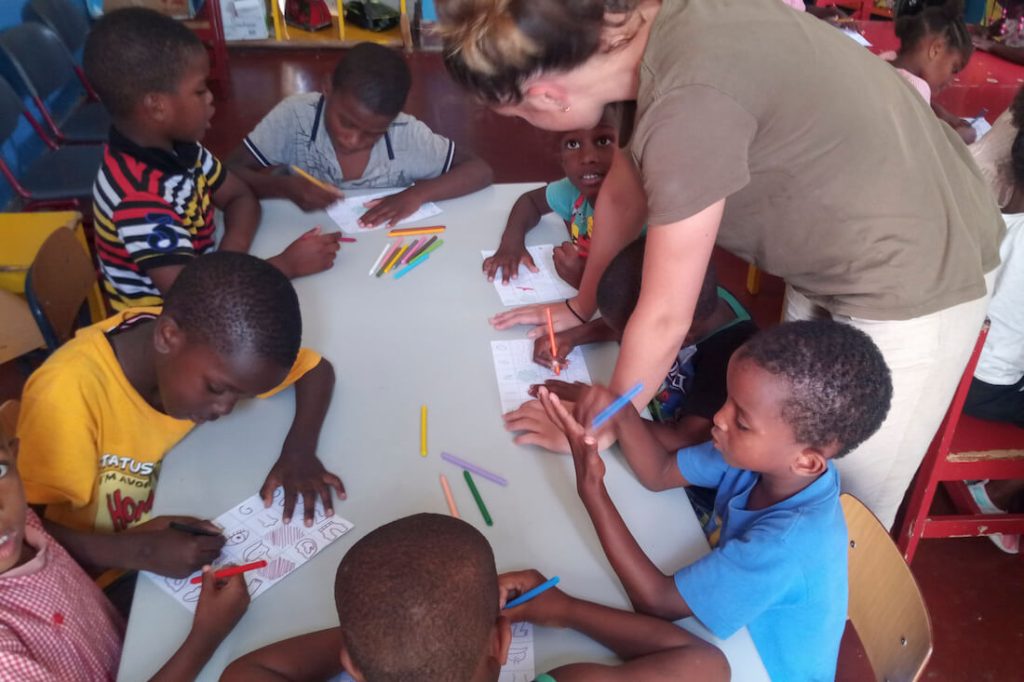 Meals: Breakfast/Lunch/Dinner
Day 7 (Saturday): Cultural Experience
Tarrafal
Soon after breakfast, drive in a local jeep, the way the locals do, and arrive at a small community settlement called Rabelados.
Here you will learn about how The Rabelados ("rebels") a religious community that revolted against the liturgical reforms introduced in the 1940s, isolated themselves from the rest of society.
Your day will involve walking around the village, meeting the people, and learning about their lifestyle.
After lunch, we drive back to Tarrafal. In the evening, you will have your time to either walk to the beach or relax at your accommodation.
Meals: Breakfast/Dinner
Day 8 (Sunday): Free Day
Tarrafal
Free Day: This day will be entirely free; plan a trip with your new friends, update your travel stories, edit your pictures, catch up on your laundry or just relax and enjoy the tranquility of a Sunday in Cape Verde.
Meals: Breakfast/Dinner
Day 9, 10, 11, 12: (Monday): Volunteering
Soon after breakfast, we head straight to the kindergarten, say hello to the kids, and spend some time either helping the teacher in her regular day's activities or helping the kids do their work.
Meals: Breakfast/Lunch/Dinner
Day 13: (Friday): Hiking
As soon as we finish breakfast, we drive by a local jeep to a certain point near the Serra da Malagueta mountain range. We start our hike and end in the afternoon. We will be carrying a packed lunch. This beautiful trek will give you an amazing view of the mountains and valleys.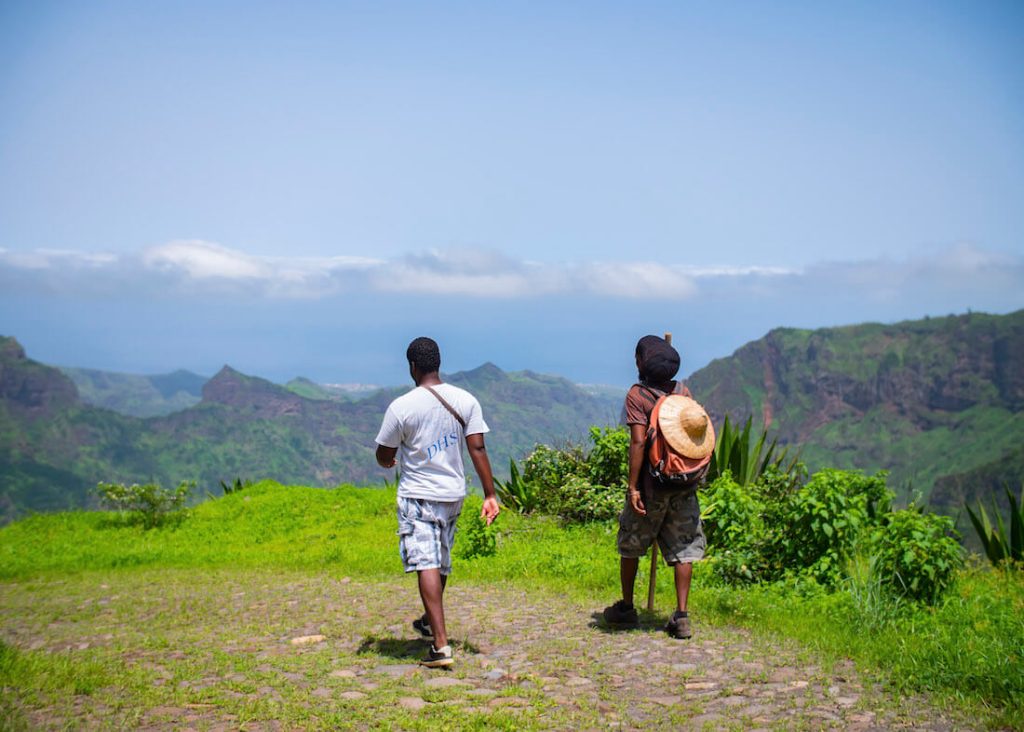 Meals: Breakfast/Lunch/Dinner
Day 14: (Saturday): Kayaking
Today is kayaking day, get ready!
Early in the morning, we refresh and soon after breakfast, we head to the kayaking center to go kayaking.
After about 2 hours of kayaking, you can spend time at the beach to soak up the sun.
In the afternoon, being your last day with us in Cape Verde, you can plan your activities to go shopping and or say goodbyes to locals and your new friends.
Meals: Breakfast/Dinner
Day 15: (Sunday): Departure day
Say your goodbyes to your buddies and the local team, it is time to leave this beautiful place.
We hope you had the time of your life!
* This schedule can be changed and/or amended depending on weather conditions, local conditions and unforeseen circumstances
5% DISCOUNT WHEN YOU BOOK NOW
1495 Euro
Our base prices are in Euro, but you can pay in Euro, US$ and Pounds. The prices will be at the currency exchange rate from the Euro at the time of payment. Click here to check the prices in your currency,
What's included:
The itinerary as stated above
Accommodation (shared room)
Meals as per the itinerary
Transport as per itinerary
24/7 in-country support
Pre-departure support
Airport pick-up
Not included:
A 5% international banking fee is added.
Visa, flights, travel insurance, vaccinations, criminal background check, Covid tests (if required), transport to your project and back to the accommodation every day, return trip to the airport.
Requirements to join:
Participants need to be minimum 18 years old
Participants under the age of 16 must be accompanied by a parent
Participants aged 16-17 are required to have parental consent
Participants are required to provide a criminal background check
Participants are required to have volunteer travel insurance
Book your place in 3 steps :
1. Apply: Fill out the Application Form (click below) and we will let you know if you are accepted within 48 hours.
2. Deposit: Once accepted you pay your deposit (200 Euro/215 US$/185 GBP) to reserve your place in the program.
3. Remaining Fees: You pay the remaining fees of your program, minus the deposit which you already paid, six weeks before the start date of your program.
Our volunteer projects in Cape Verde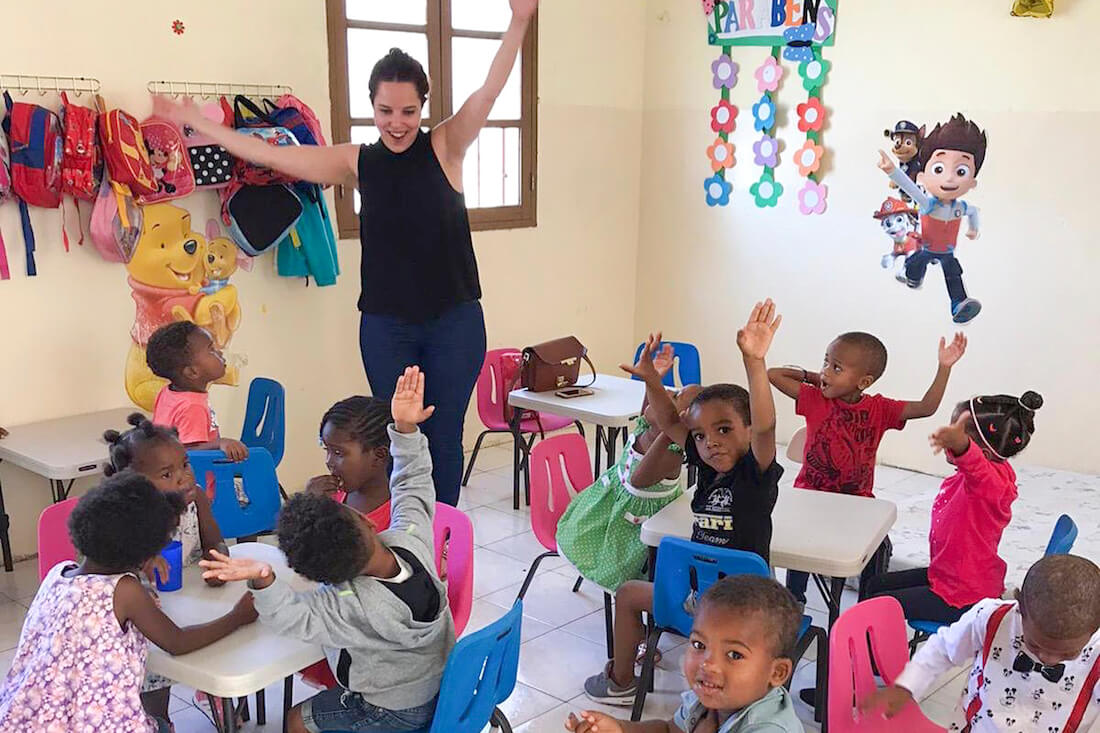 Join our volunteer projects in Cape Verde, where we have different projects available including teaching English, taking care of children, building & conservation, and turtle conservation projects. You can combine these projects and create your own program!