Join our volunteer projects in Cape Verde, where we have different projects available. You can start every Monday, and you can join from 2 weeks up to 8 weeks. You can combine the projects and create your own program!
Location: Tarrafal, Cape Verde
Start Dates: Start every Monday
Duration: Minimum 2 weeks – Maximum 8 weeks
Arrival Airport: Praia International Airport (RAI)
Submit a free application so we can check your eligibility and availability for you.
Unique Cultural Experiences
Sustainable Worthwhile Projects
Receive Top Quality Support
Meet International Volunteers
Throughout the duration of your trip, you will be based in Tarrafal which is a small quiet city in the northern part of the island of Santiago. The city is named after an indigenous plant called the Tarrafe. It is located on the northern part of the island of Santiago, on the northwestern coast.
You will be met upon arrival at Praia International Airport (RAI) on Sunday. You will be picked up by the local team and transferred to your accommodation to meet the other international volunteers. We will provide you with full arrival and contact details when you book your program.
On the Monday of your first week, there is an orientation by your coordinator, so you can get comfortable with the surroundings as well as the local culture.
The accommodation is in shared rooms with other volunteers. Throughout the journey, you will be accommodated in basic but clean single-gender dorm-style rooms. The rooms will be shared with other volunteers. There are 3 meals included per day from Monday to Friday, and 2 meals per day on weekends.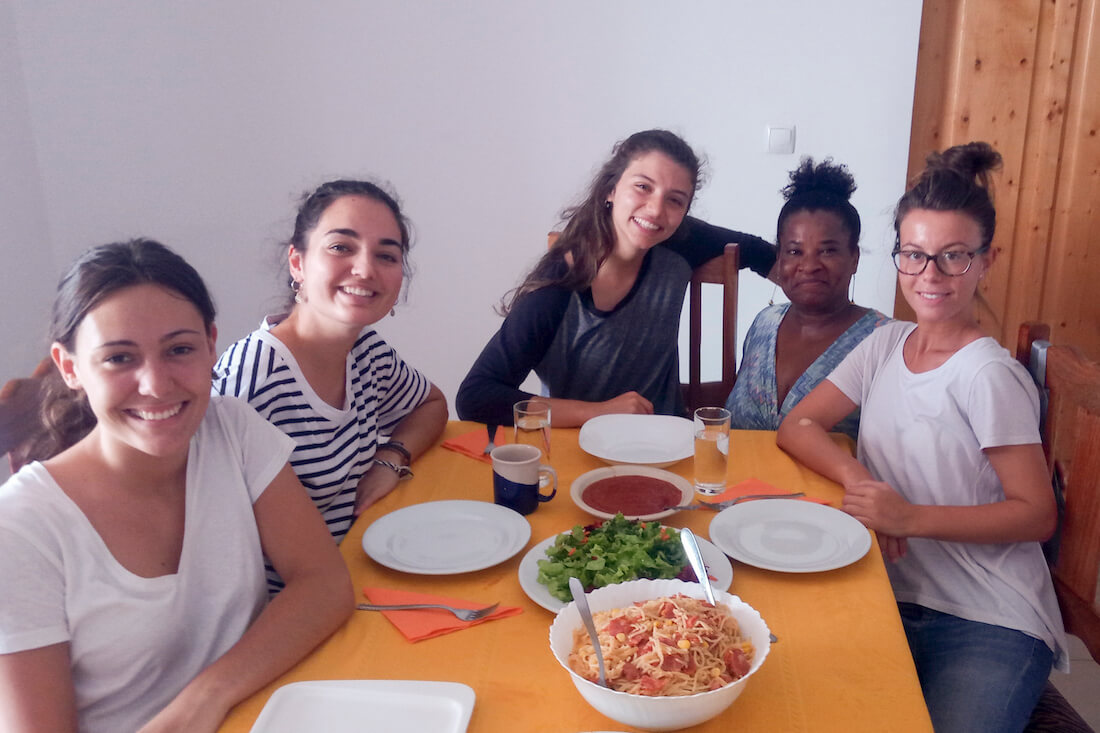 The culture week is an action-packed week full of exciting adventures and cultural excursions to immerse yourself in the Cape Verdean culture!
This week can be added to your program as your first week.
Throughout the week, you will be introduced to the Cape Verdean culture, and explore Tarrafal and its surrounding areas. You will immerse yourself in the local culture, meet friendly local people, and explore the mountains and beaches.
The Culture Week in Cape Verde will give you an understanding of this amazing country, the local people, and its wonderful sights. You will learn some of the local languages, learn Portuguese cooking skills, visit the bustling local markets, help with local projects, and participate in various activities.
This is the schedule for the culture week:
Monday
• On Monday, you will have breakfast and then get an introduction about the Cape Verdean traditions and culture. We will do initial documentation before your program begins including the signing.
• Then you will attend a Basic Kriolu class to learn about the local language. This is critical because the majority of people speak
Kriolu, Portuguese or French here. So, it may come in handy if you learn the Kriolu language.
• Then we will leave to visit local supermarkets and ATMs. Then you will visit the Museum, Tarrafal concentration camp, local market and explore the surroundings of our centre.
• We will have lunch at the centre.
• After lunch, you will visit Mar De President Beach and spend some time on the beach before returning back to the center for dinner.
Tuesday
• After breakfast, you will attend a one-hour Basic Kriolu class to continue your course. Today you will learn how to talk about Days
of the Week and months in Kriolu.
• You then have the opportunity to witness a local cooking lesson, wherein you will learn to cook Cachupa which is a famous dish from the Cape Verde islands. In the afternoon, you will visit Ribeira Das Pratas which is the black sand beach.
Wednesday
• After breakfast, you will attend another basic Kriolu class where you will learn useful words for communication and spelling. Then you will visit Rebelados village.
• Learn about this religious community primarily found in the interior of the island of Santiago of Cape Verde. They were among the groups which revolted against the liturgical reforms and isolated themselves from the rest of society
• After lunch at the center, you will visit Piscina Natural de Cuba, a hidden getaway off the regular tourist tracks which residents call these natural pools Espírito Santo. These natural pools can
provide moments of leisure.
Thursday
• After breakfast, you will attend a one-hour Basic Kriolu class and start learning how to make sentences.
• Then we will leave the center and visit the Project site for the following week.
• You will have lunch and continue at the project site till the afternoon.
Friday
• After breakfast, we will have our last Basic Kriolu classes and start making phrases. Then we will head out to go on a fishing trip with the local fishermen.
(**This activity is totally dependent on the weather, if the weather is rough or choppy on a Friday, this activity could be done on the
following day or on Monday. There will not be any other activity scheduled for the day to substitute this activity**)
• We will return to the center with the fresh catch to cook for lunch.
• After lunch, it is your free time to relax.
* This schedule can be changed or amended depending on weather or local circumstances
In Tarrafal, a small town in northwest Cape Verde, join a rewarding experience of teaching English to local children in this town. You will be teaching students in a school with limited resources and opportunities to learn and improve their proficiency in English. You will be able to teach classes in the kindergarten and the primary school using your expertise as well as experience to encourage and teach these students to develop their language skills.
You will be teaching conversational English and other related subjects to help the children do well in their education, and to prepare them for their future careers with English language skills
The mothers in this area mostly have to raise their children alone and have to work hard. So there isn't a lot of attention to the
children's education. The men are abroad or work as fishermen, or are living in other areas working as labourers. So your care and attention on the children will be a big help!
These are some of the tasks that you could be doing at the project:
Kindergarten and Primary School teaching English
Teaching the children through activities
Games and physical education for team building and health
Introducing children to colours, shapes and cognitive exercises
An introduction to numbers and alphabets in English
Playing games with the children in the playground
Sharing geographical information of your country
Lesson planning and research to plan for the next day's teaching
* This schedule can be changes or amended depending on weather or local circumstances
The childcare project is located in Tarrafal which is a small town along with a Cobalt Blue Sea and lovely beaches on the island of Santiago. You will provide education and childcare to children. The childcare placement can take place at daycare centres, kindergartens, or schools.
You will be taking care of the children and also provide education to the children through activities including songs, rhymes, poems, stories, alphabet,
numbers, drawing, colouring, and games.
You will get a unique insights in childcare and childcare in Cape Verde while gaining hands-on childcare experience.
These are some of the tasks that you could be doing at the project:
Providing childcare under the supervision of local staff
Child development through activities using board games, and colouring pictures
Games and physical education for team building and health
Introducing children to colours, shapes and other cognitive exercises
A basic introduction to numbers and alphabets in English
Games in the playground that enhance exercises and translate the actions in English
* This schedule can be changed or amended depending on weather or local circumstances
School Renovation Project
This project aims to support schools in Tarrafal and develop the infrastructure by restoring and renovating. You take part in various activities and tasks to help improve the learning environment for the students in the schools.
The projects you will take part in may include renovating libraries, playgrounds, and any other essential elements for the schools.
Volunteer in renovating local village schools, to help the children have better conditions at their school. This project helps schools in and around Tarrafal by renovating their infrastructure in order to create better conditions and learning facilities.
Make a difference in the local community! The project involves physical and manual labor, which can include laying bricks, carpentry, painting, laying tiles, and gardening.
By participating in this social project, you will make a difference in the local community.
Your schedule:
Monday to Friday
Every morning after having breakfast, you will plan the project you will be engaged in, with the coordinator. Then you will set out to the project location to engage in your daily tasks.
You will be working alongside other participants and you will be guided by the coordinator throughout your time at the project.
* This schedule can be changed or amended depending on weather or local circumstances
Join this conservation project for sea turtles on the Islands of Cape Verde and make a difference to save the sea turtles from extinction.
Spend your time supporting a sea turtle conservation program in Cape Verde. The most common sea turtle we find in this area are Loggerhead sea turtles and they visit the Cape Verdean beaches for nesting during the months of July to October until December.
This project aims and preserving the sea turtle nesting areas, and conserving and rehabilitate sea turtles in the light of saving these animals from extinction. You will actively take part in the conservation activities at this project and contribute to the impact it has on the survival of these animals.
The Cape Verde island's beaches are one of the most visited sites by the Loggerhead sea turtle for nesting. They play a critical role in the marine ecosystem by maintaining the health of sea grass and coral reef ecosystems that provide food to other marine life.
The greatest threat to their survival is the loss of nesting habitat due to coastal
development which results in disorientations during the emergence of hatchlings.
During this project, you and members of the local community will be working together to ensure the protection of the female sea turtles.
The normal nesting season is from July until December with hatchlings being born from mid-August until late December.
The program is located at Ribera Das Pratas. You will be based in field camps with very basic accommodation facilities during night patrols there is no electric
power at the beach.
This opportunity will not only provide you with good experience in turtle conservation techniques but also will allow you to make a real difference in the survival of
marine turtles. Your participation in this program will directly save numerous nesting sea turtles and hatchlings.
This is the schedule:
Monday to Friday
From June to December
1830 to 1900 – Clean the beach
1900 to 1930 – Orientation for the day with station positions on the beach
2030 to 2230 – Shift 1 – Night patrol
2230 to 0030 – Rest
0030 to 0200 – Night Patrol
0200 to 0400 – Night Patrol
0400 to 0600 – Patrol to clean up the beach
From January to May
0900 – Travel to the beach
0930 to 1000 – Orientation for the day
1000 to 12:00 – You will be doing one or two of the following tasks cleaning and
maintenance of the turtle project site, tree plantation at the beach awareness program at the local school or designing pamphlets or distributing printed pamphlets or making awareness of wooden boards and placing it at the beach, and promoting the importance of sea turtles in the villages around the beach through paintings and drawings beach clean-up
activities.
1200 to 1400 – Lunch at the center
1400 to 1430 – Travel to the beach
1430 to 1630 – Continue with hour activities planned for the day
* This schedule can be changed or amended depending on weather or local circumstances
Explore the green landscape of Cape Verde off the beaten path on this beautiful island. This trip includes an adventure in Cape Verde and lets you explore the country in its purest forms. The action-packed itinerary throughout the week offers you visits to the hotspots on the island while sightseeing to the best scenic hiking and trekking trails.
Not only it has adventures on the ground such as hiking, trekking, visiting traditional villages, and even exploring a rum factory, but also it has its share of exploring the best beaches and the world underwater.
Your schedule during this week:
Monday
Northern Island of Santiago
Today,you will visit Green valleys of Northern Island of Santiago and see beautiful landscapes and interact with local people in their villages.
Tuesday
Serra Malagueta to Mato Brasil
Today, you will walkfrom Serra Malaguetato Achada Lagoaand to Mato Brasil. This hiking track has spectacular views of all parts of Santiago North.
Wednesday
Hiking with Lunch at Farmer's House
Walk with us in the mountains of Serra Malaguetaand have lunch at an organic farm. In the valley of Lagoa, you will have impressions of a traditional Cape Verdean lifestyle.
Lunch will be served at the farmer's house.
With a little bit of luck, you can see monkeys along the route.
Thursday
Gon-Gon – the "King-Track"
The valley of Gon-gon was named after the Bird Gon-Gon. This is a stunning landscape and the hike has very spectacular views en route.
We will start from a Nature Park of Serra Malagueta, go down to the Gon-gon valley, and go up over a ridge and down in the valley of Principal until we reach the ocean.
Friday
Mountain Cycling Trip
Today, we will discover the great natural surroundings around Tarrafal while going on a bicycle trip.
* This schedule can be changed or amended depending on weather or local circumstances
2 Weeks: 999 Euro
3 Weeks: 1299 Euro
4 Weeks: 1599 Euro
+1 Week: 299 Euro
Our base prices are in Euro, but you can pay in Euro, US$ and Pounds. The prices will be at the currency exchange rate from the Euro at the time of payment. Click here to check the prices in your currency.
With us there are NO Registration Fees, NO administration fees, and you can easily combine the different projects.
For Renovation Project there is an extra fee per week of 35 Euro
For the Sea Turtle Project there is an extra fee per week of 70 Euro
For the Trekking Week there is an extra fee of 175 Euro
What's included:
Volunteer Program
Accommodation (shared room)
Meals
24/7 in-country support
In-country program orientation
Pre-departure support
Airport pick-up
Not included:
A 5% international banking fee is added.
Visa, flights, travel insurance, vaccinations, criminal background check, Covid tests (if required), transport to your project and back to the accommodation every day, return trip to the airport, transfers between different locations.
Requirements to join:
Volunteers need to be minimum 18 years old
Volunteers under the age of 16 must be accompanied by a parent
Volunteers aged 16-17 are required to have parental consent
Volunteers are required to provide a criminal background check
Volunteers are required to have volunteer travel insurance
Yellow fever vaccination is a mandatory requirement for all participants arriving in Cape Verde
Volunteers might need to have a Covid test done before departure (we will inform you of this)
Book your place in 3 steps :
1. Apply: Fill out the Application Form (click below) and we will let you know if you are accepted within 24 hours.
2. Deposit: Once accepted you pay your deposit (200 Euro) to reserve your place in the program.
3. Remaining Fees: You pay the remaining fees of your program, minus the deposit which you already paid, six weeks before your start date of your program.
Our other program: Cape Verde Discovery
Experience Cape Verde and immerse yourself in the local culture, meet the ever-friendly people, explore the mountains and learn and give back in this not-so-common holiday destination.