Volunteer in Laos
Join our volunteer programs in Laos in 2023, where we have the 4 best volunteering projects in Luang Prabang.
You can choose your own project, and combine different projects and create your own tailor-made unique Laos volunteer program!
You can start every Monday, and you can join from 1 week up to 8 weeks.
On the Monday of your first week, there is an orientation by our local team, so you can get comfortable with the surroundings as well as the local culture in Laos.
Location: Luang Prabang, Laos
Start Dates: Start every Monday
Duration: 1 week – 8 weeks

Unique Cultural Experiences
Sustainable Worthwhile Projects
Receive Top Quality Support
Meet International Volunteers
Arrival in Luang Prabang
The projects are based in Luang Prabang, Laos with wonderful volunteer opportunities in Luang Prabang.
Your airport pick-up is included, and you will be met upon arrival on Sunday. You will be picked up by the local team and transferred to your accommodation to meet the other international volunteers.
We will provide you with full arrival and contact details when you book your program.
Orientation on Arrival
On the Monday of your first week, there is an orientation by your coordinator, so you can get comfortable with the surroundings as well as the local culture.
There will be an introduction to the program, the accommodation, health and safety advice, local Do's and Don'ts, an intro into the local Culture.
Accommodation & Meals
Your accommodation is included in the program from when you arrive on Sunday until Saturday morning of your last week.
The accommodation is in shared rooms with other volunteers. Throughout the journey, you will be accommodated in single-gender dorm-style rooms.
Your meals are included during your program. There are 3 meals included per day from Monday to Friday, and 2 meals per day on weekends. Vegetarian meals can be arranged.
Our Volunteering Projects in Luang Prabang
Culture Week
Now that you are in the land of a million elephants' kingdoms, get a taste of the real Laos through culture lessons, city outings, exploring waterfalls, and more!
Bond with other participants from all over the world, immerse yourself in the culture and beauty of Laos, and enjoy its scrumptious food, friendly people, unique traditions, and more!
Get a unique experience in Laos, the often overlooked treasure of Southeast Asia, through visits to off-the-beaten-path places, and temples, and mixing with the locals by engaging in different activities.
The Culture Week will kick off with an introduction to Laos customs, do's and dont's, and Laotian language classes.
Further, during the week, you can try your hand at local agriculture practices, handcraft lessons with local help, cooking classes, taking a dip in a beautiful waterfall, experience the real buzz at local markets, and much more!
And of course, we cannot miss the chance to show you the ins and outs of the ancient historical city and its culturally valuable temples, one which is quite different from other cities in Southeast Asia.
You will also get a chance to greet and meet one of the Laotian tribes giving you some special moments to remember for a lifetime.
Why not some different experiences during the culture week? so we have a visit to bear conservation planned just for you!
Schedule
Monday
• Breakfast
• Introduction meeting
• Briefing on Laotian Customs, rules and expectations, health and
safety
• Tour around the compound and local area
• Lunch
• Language lesson
• Dinner
Tuesday
• Breakfast
• Visit the local village
• Get yourself busy in handcrafting
• Lunch
• Flower offering at the local temple
• Laotian cooking classes
• Barbeque Dinner at the accommodation
Wednesday
• Breakfast
• Explore the world heritage city including an ancient historical
temple
• Visit the Laos local morning market
• Visit a beautiful forest temple
• Lunch
• Take a dip in the famous Kuang Si waterfall
• Visit bear Conservation
• Explore the hill tribe village
• Roam in the night market before heading back to the
accommodation
• Dinner
Thursday
• Breakfast
• Introduction and placement orientation
• Lunch
• Start working at the placement
• Dinner
Friday
• Breakfast
• Visit the placement
• Lunch
• Lesson planning for the next week
• Dinner
* This schedule can be changed and/or amended depending on weather conditions, local conditions, and unforeseen circumstances.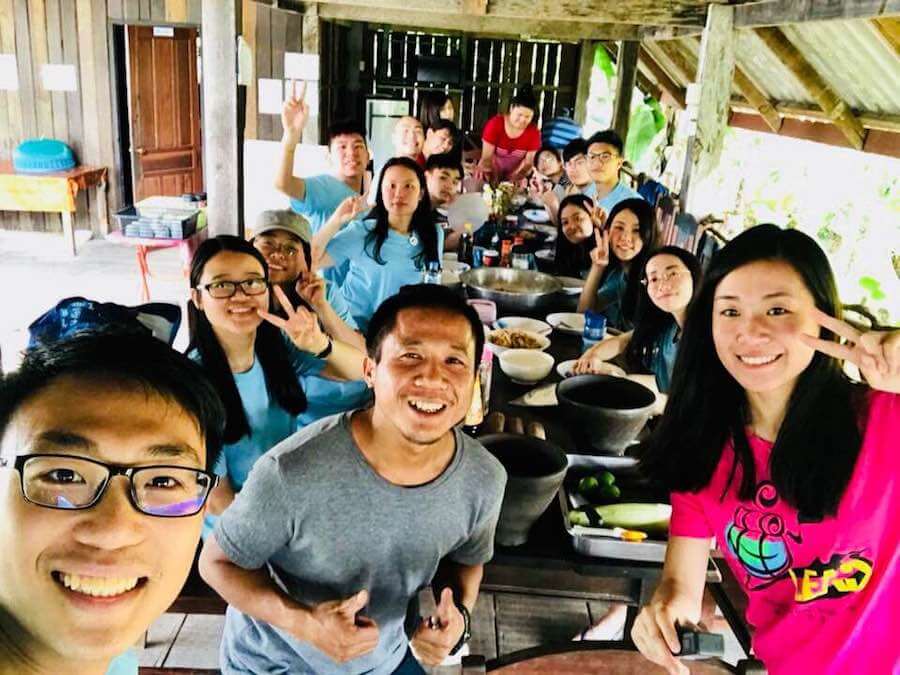 Teaching English
Engage with the local village children by teaching English classes at local primary schools in ancient Laos!
Teach English to these bright-eyed children in an informal way through engaging activities and games, feel free to get creative!
Aside from teaching your students a new  language that can impact their future, you will also get to interact with the kids, who might end up teaching you something back!
This teaching program may take place at a variety of schools, although our primary teaching placement is a local public school in Luang Prabang where you get to teach English to children aged between 10 to 25 years old and, the classrooms are roughly 15 – 20 students per class with one teacher.
Many schools are open to new concepts and approaches to teaching. This means that you may be able to share your new ideas and teaching strategies that might complement teaching styles in Laos.
You may come up with a creative lesson plan yet in line with the syllabus to help the student improve their English as well as their general knowledge. You can use different tactics such as bringing up various topics and asking the kids to get involved in discussions to share their ideas related to the topic you select. That way you share a broader knowledge with the local children.
You will be teaching for around 3 – 4 hours per day and will have additional time to create your lesson plans, following the stipulated English Curriculum.
This is a hugely rewarding project and the students are eager to learn as much as they can from you and have a bit of fun in the process!
Schedule
Monday to Friday
• Breakfast
• English classes
• Lunch
• English classes
• Free time to prepare for the next lessons
• Dinner
* This schedule can be changed and/or amended depending on weather conditions, local conditions, and unforeseen circumstances.
Kindergarten Project
Help out at local kindergartens by teaching English and organizing fun activities for the children.
You'll be working in one of the two kindergartens we help by teaching basic English to the children, organizing activities, and assisting the local staff. This is a great place to learn more about local Laos culture and at the same time give something back to the local community.
The project helps provide quality English language classes to young children. Without volunteers at the kindergarten, it would be difficult for these children to obtain quality English language lessons in this area.
In this project, you will get to feed, play with the children, organize activities, and at times, help the staff with cleaning chores. You are playing a great role in this program as you work with the children who are very young and not exposed to the elders much.
Your kindness and gentleness towards the kids will make it easier for them to adopt and feel confident in communicating with the elders. They are shy and playful at the same time which will be challenging for you in the beginning but we are sure it will be a lovely experience working with the kids who adore you and give you unforgettable memories in your life!
Schedule
Monday to Friday
● Breakfast
● Teaching
● Feeding
● Sleeping time for the children/lunch time for you!
● Feeding time
● Activities and playing games
● Dinner at the accommodation
* This schedule can be changed and/or amended depending on weather conditions, local conditions, and unforeseen circumstances.
Construction & Renovation
Get your hands dirty by constructing and renovating temples, schools, and more in one of the ancient locations in Laos.
A program designed for those who don't mind getting a bit sweaty and their hands dirty!
You'll spend your time working in construction and renovation wherever it's needed at the time. Most of the community places and the buildings in this ancient city require a great deal of improvement allowing you to play a special role in the community.
To improve the hygiene in local schools and kindergartens, you will support the team with rebuilding and renovating the bathrooms in the schools and kindergartens. You will directly help the community by making it a pleasant and healthy environment for the kids to study.
This program improves especially the infrastructure in the local community, by renovating and rebuilding. You will be asked to involve in different types of renovation options ranging from painting and renovating school and temple walls, and repairing furniture such as chairs and tables to improve the roads to the local schools, kindergartens, and community places, which will be available at the time of your arrival.
It is fun to work with locals to achieve a common goal and you will learn a lot of things about Laotians and their hard work contributing to keeping the community and the environment clean with your support of course!
Schedule
Monday to Friday
• Breakfast
• Working in the placements
• Lunch
• Working in the placements
• Dinner
* This schedule can be changed and/or amended depending on weather conditions, local conditions and unforeseen circumstances.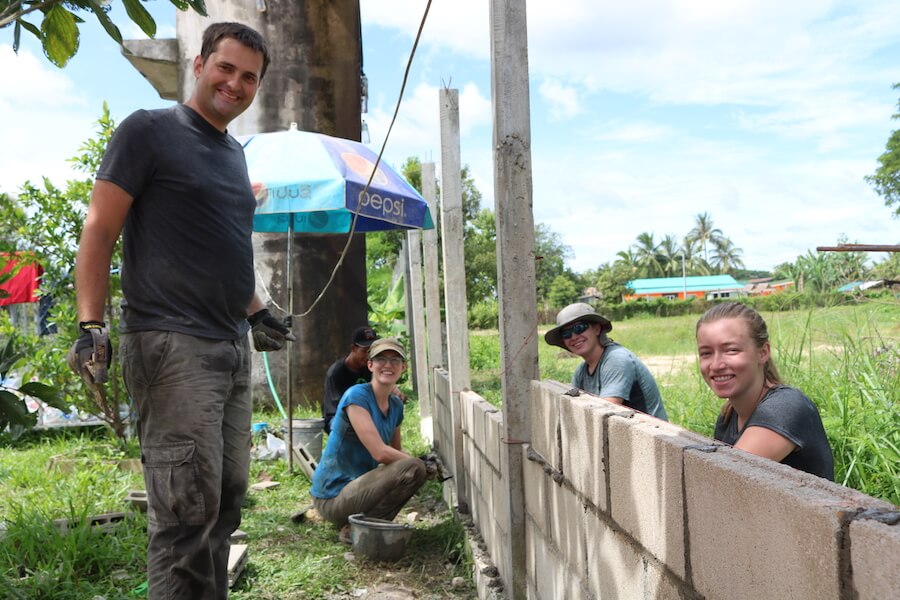 1 Week: 645 Euro
2 Weeks: 775 Euro
3 Weeks: 965 Euro
4 Weeks: 1155 Euro
+1 Week: 215 Euro
* The Culture Week and Construction Project has an extra fee of 55 Euro per week
With us there are NO Registration Fees, NO administration fees, and you can easily combine the different projects

What's included:
Volunteer program
Accommodation (shared room)
Meals
24/7 in-country support
In-country program orientation
Pre-departure support
Airport pick-up
Not included:
A 5% international banking fee is added.
Visa, flights, travel insurance, vaccinations, criminal background check, Covid tests (if required), transport to your project and back to the accommodation every day, return trip to the airport, transfers between different locations.
Requirements to join:
Volunteers need to be minimum 18 years old
Volunteers are required to provide a criminal background check
Volunteers are required to have volunteer travel insurance
Volunteers might need to have a Covid test done before departure (we will inform you of this)
Book your place in 3 steps :
1. Apply: Fill out the Application Form (click below) and we will let you know if you are accepted within 24 hours.
2. Deposit: Once accepted you pay your deposit (100 Euro) to reserve you place in the program.
3. Remaining Fees: You pay the remaining fees of your program, minus the deposit which you already paid, six weeks before your start date of your program.