Vietnam Volunteer
Join our volunteer programs in Vietnam in 2023, where we have the 5 best volunteering projects in Ho Chi Minh City.
You can choose your own project, and combine different projects and create your own tailor-made unique Vietnam volunteer program!
We also have the not to be missed Vietnam Discovery, click here for more info.
You can start every Monday, and you can join from 1 week up to 8 weeks.
On the Monday of your first week, there is an orientation by our local team, so you can get comfortable with the surroundings as well as the local culture in Vietnam.
Location: Ho Chi Minh City, Vietnam
Start Dates: Start every Monday
Duration: 1 week – 8 weeks

Unique Cultural Experiences
Sustainable Worthwhile Projects
Receive Top Quality Support
Meet International Volunteers
Arrival in Ho Chi Minh City, Vietnam
The projects are based in exciting Ho Chi Minh City, the place to be in Vietnam with wonderful volunteer opportunities in Vietnam.
Your airport pick-up is included, and you will be met upon arrival on Sunday. You will be picked up by the local team and transferred to your accommodation to meet the other international volunteers.
You need to arrive at the international airport of Ho Chi Minh City called Tan Son Nhat International Airport (SGN).
If you would already be in Vietnam before Sunday, then we will arrange for you to go directly to the accommodation.
We will provide you with full arrival and contact details when you book your program.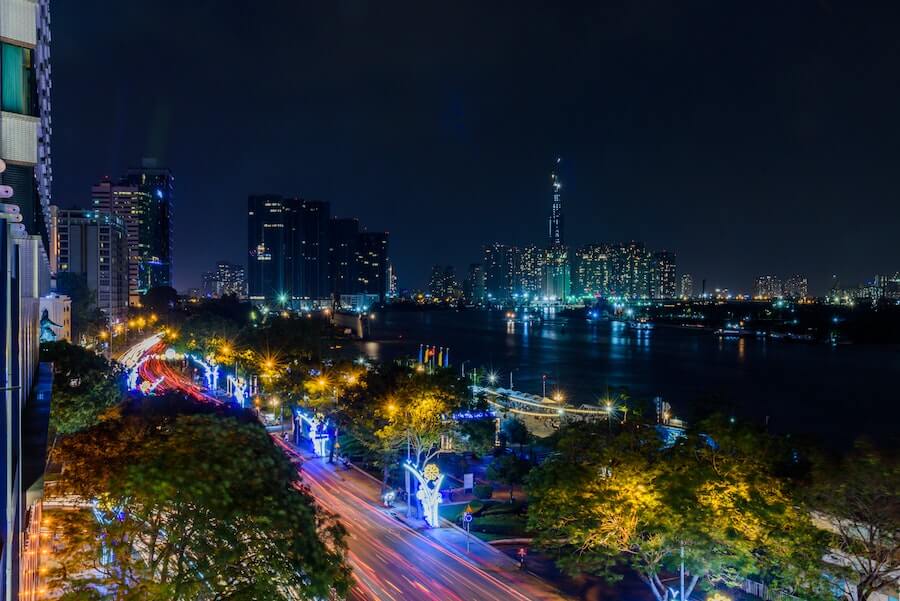 Orientation on Arrival
On the Monday of your first week, there is an orientation by your coordinator, so you can get comfortable with the surroundings as well as the local culture. There will be an introduction to the program, the accommodation, health and safety advice, Vietnamese Do's and Don'ts, an intro into the Vietnamese Culture and the Vietnamese Language, and a tour around the area where you will be staying.
Accommodation & Meals
Your accommodation is included in the program from when you arrive on Sunday until Saturday morning of your last week.
During the program, you will be living in our accommodation on a college campus, not far from the center of the city. A very interesting and exciting place to stay during your volunteering!
There is WIFI internet available at the accommodation.
The accommodation is in shared rooms with other volunteers. Throughout the journey, you will be accommodated in single-gender dorm-style rooms.
Your meals are included during your program. There are 3 meals included per day from Monday to Friday, and 2 meals per day on weekends. Vegetarian meals can be arranged.
Some projects are within walking distance of the accommodation, others can be reached with local transport, the coordinator will make sure that you know how to get to your project.
Our Volunteering Projects in Ho Chi Minh City, Vietnam
Vietnam Culture Week
The Vietnam Culture Week is a program filled with Vietnamese cultural experiences through visits to historic monuments, workshops, and more!
This week will open your eyes to Vietnamese culture, giving you an understanding of Vietnam and its people.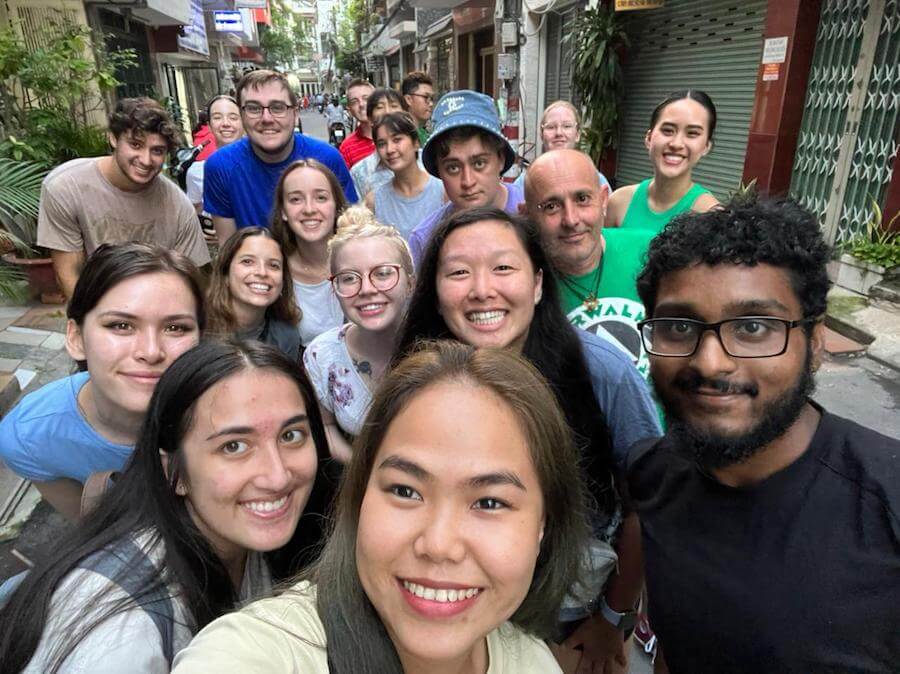 volunteer teaching in Vietnam
As a volunteer english teacher in Vietnam, you will help the students to improve their vocabulary, spelling, and pronunciation, so they can start to use English in a practical way.
Your students in this project are students at a local college-aged between 16 and 25, and they have an intermediate level of English, but they need a lot of practice, and that is where you come in!
Being able to speak the English language is very important for the future prospects of students in Vietnam, as this will open up better career options for the future, so your volunteer teaching in Vietnam is very valuable.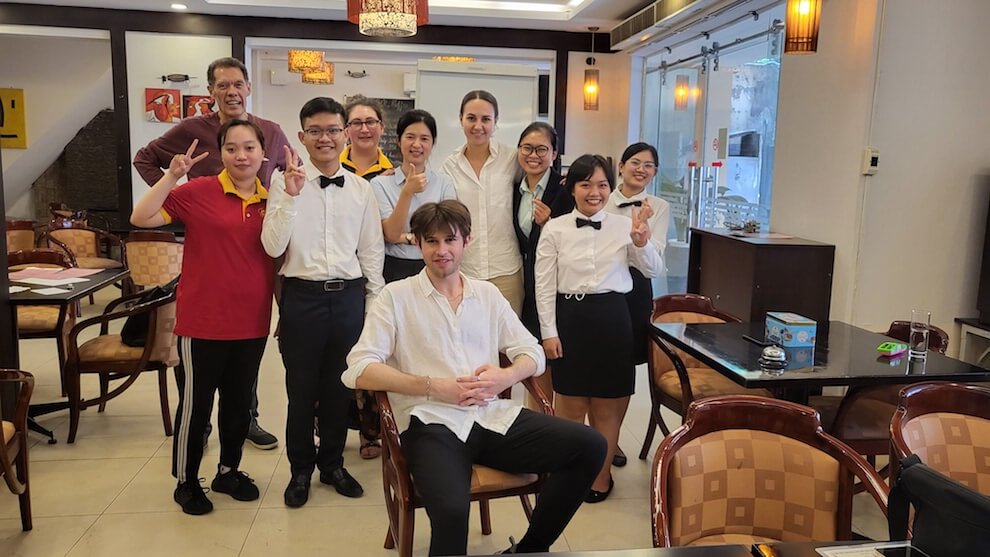 Kindergarten volunteer in Vietnam
Join as a volunteer Ho Chi Minh City in our kindergarten in Ho Chi Minh, Vietnam. At the kindergarten, you will play games with the children, sing songs with them and teach them basic English.
You will be placed at a well-organized kindergarten, where the children are 3-6-year-old children in this kindergarten, and you will assist the local staff with daily tasks such as feeding the kids, playing with them and giving them attention.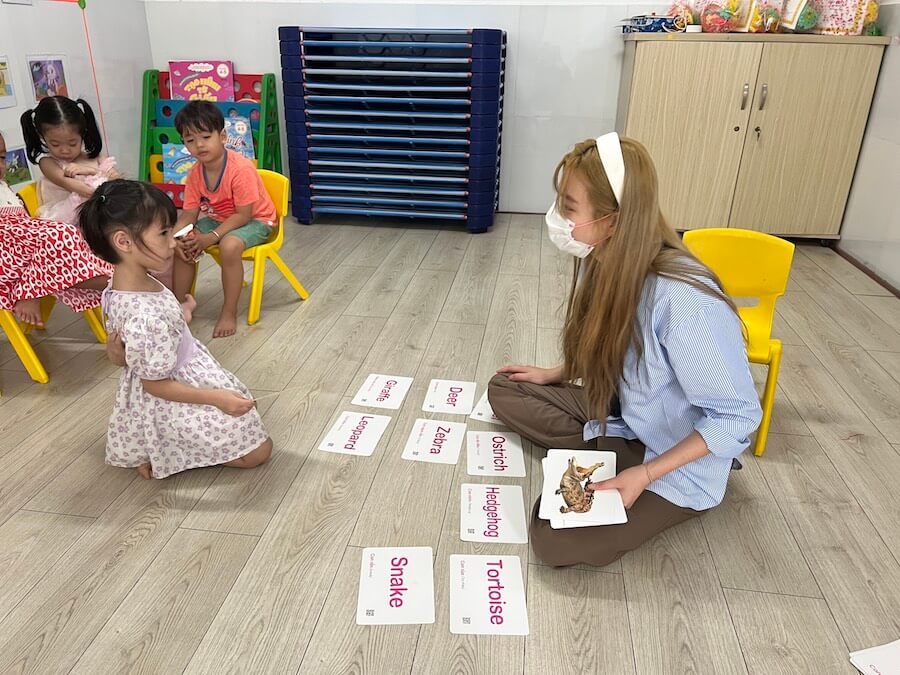 volunteer disability care in Vietnam
Work as a volunteer in a special children project afflicted with mental and physical disabilities at this city's local hospital.
The childcare home cares for Vietnamese children with a different disabilities. At this project you will be taking care of the children by comforting them, playing games with them, and socialising with them.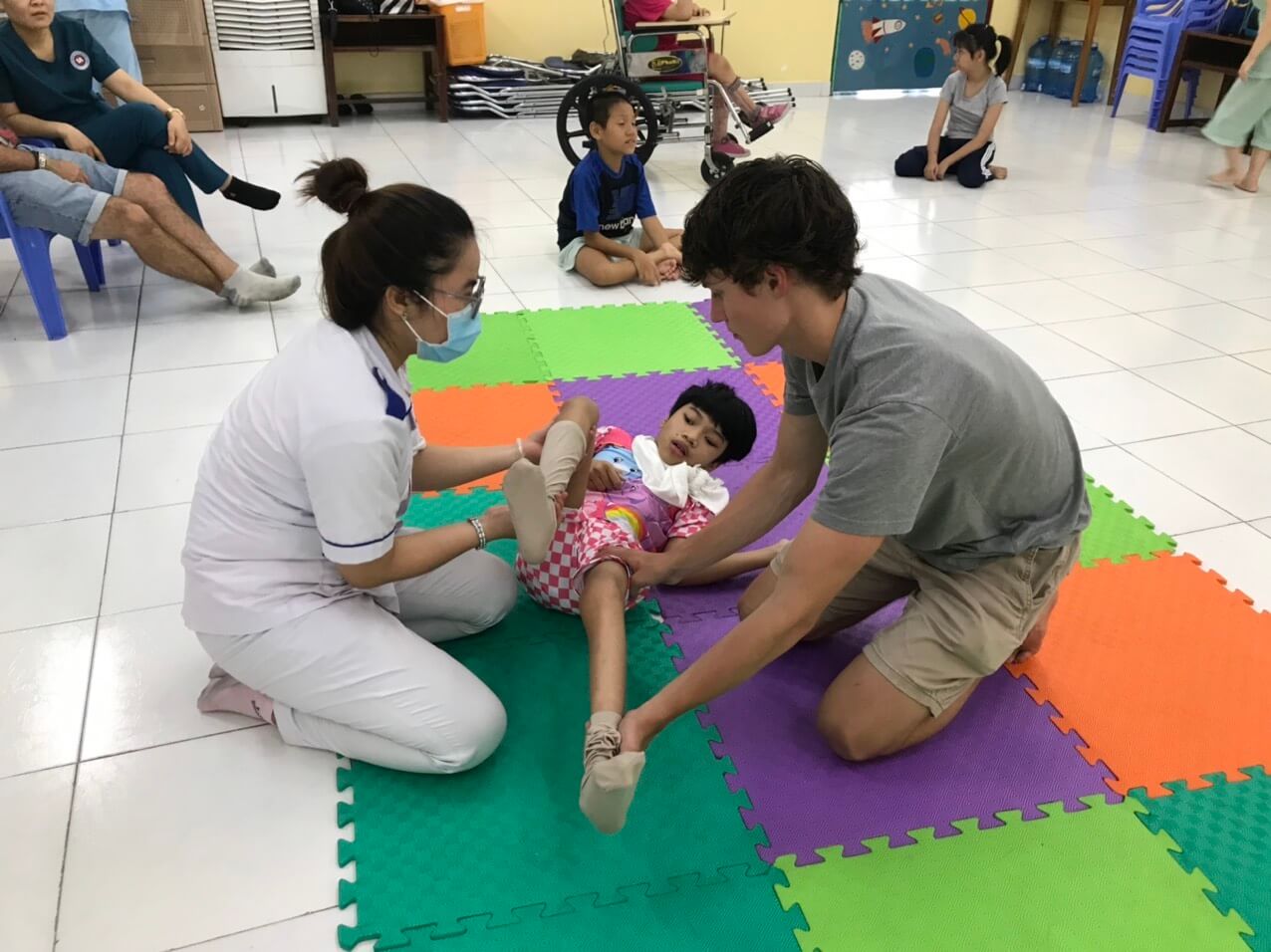 volunteer
soup kitchen

in Vietnam

Join as a volunteer in a soup kitchen in Vietnam, and help with food preparation, serving the food, and cleaning up at a soup kitchen in Ho Chi Minh City, that is providing low-cost healthy meals to poor people that need help.

The soup kitchen is an NGO that works with local and international volunteers to provide low-cost meals on a daily basis.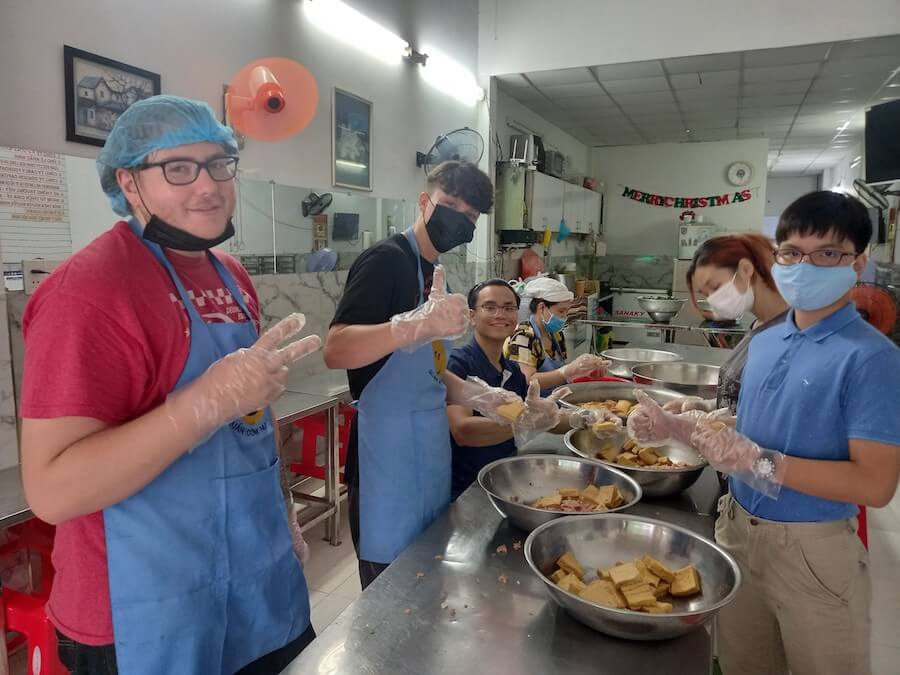 medical volunteer program in Vietnam
Do medical volunteer in Vietnam in our medical project in Ho Chi Minh City, which is designed for pre-medical or medical students who want to get experience and insight into the Vietnamese healthcare system.
The program is based in a government-operated hospital, serving the community of Ho Chi Minh. As a volunteer, you will be observing, by shadowing the local medical professionals, as it is a hands-off experience.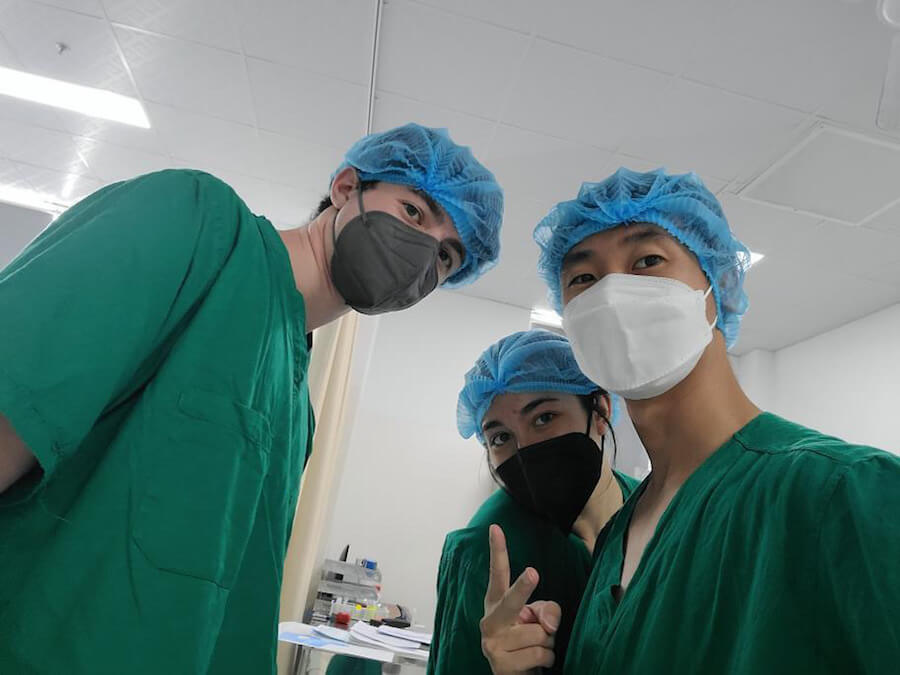 Vietnam Discovery
We also have the Vietnam Discovery available in Vietnam.
The Vietnam Discovery is a 2-week volunteer travel tour that gives you unique travel, cultural & volunteering experiences, where you will immerse yourself in community projects, and join fantastic trips, whilst receiving top-quality support during your time in Vietnam.
click here for more info
Price of our Vietnam Volunteer Programs
1 Week: 645 Euro
2 Weeks: 799 Euro
3 Weeks: 999 Euro
4 Weeks: 1199 Euro
+1 Week: 199 Euro
* the Culture Week and the Medical program has an extra fee of 70 Euro per week
Our base prices are in Euro, but you can pay in Euro, US$ and Pounds. The prices will be at the currency exchange rate from the Euro at the time of payment. Click here to check the prices in your currency.
With us there are NO Registration Fees, NO administration fees, and you can easily combine the different projects

What's included:
Volunteer program
Accommodation (shared room)
Meals
24/7 in-country support
In-country program orientation
Pre-departure support
Airport pick-up
Not included:
A 5% international banking fee is added.
Visa, flights, travel insurance, vaccinations, criminal background check, Covid tests (if required), transport to your project and back to the accommodation every day, return trip to the airport, transfers between different locations.
Requirements to join:
Volunteers need to be minimum 18 years old
Volunteers are required to provide a criminal background check
Volunteers are required to have volunteer travel insurance
Volunteers might need to have a Covid test done before departure (we will inform you of this)
Book your place in 3 steps :
1. Apply: Fill out the Application Form (click below) and we will let you know if you are accepted within 24 hours.
2. Deposit: Once accepted you pay your deposit (100 Euro) to reserve you place in the program.
3. Remaining Fees: You pay the remaining fees of your program, minus the deposit which you already paid, six weeks before your start date of your program.