When you volunteer in Bali, you'll get to experience a variety of benefits. Some of these benefits include the chance to teach English and live with a Balinese host family. Others include learning about the local culture and helping save sea turtles. Whatever your personal motivation, there's a volunteer opportunity in Bali for you.
Teaching English
You may be wondering how you can make a meaningful contribution by teaching English as a volunteer in Bali. Well, you can start by looking at the projects offered by International Volunteer HQ. These programs are non-profit and community-based and aim to make a sustainable impact. Not only do they support the local community, but they are also affordable and can help you make a difference in the lives of the children.
When you volunteer for a project like this, you will work with a local teacher to teach a group of children. Sometimes, you'll be left in charge of a class, which can be challenging. However, the children are eager to learn and will look forward to your lessons. You'll be provided with a curriculum, which you will then need to present in an engaging manner.
The program fee is low compared to many other volunteer programs. The fees cover the food and accommodation, airport pick-up, orientation, and in-country support. However, the program fee doesn't cover airfare, vaccinations, or other personal expenses. Despite being one of the cheapest volunteer programs in Bali, it still provides a high-quality experience.
Volunteers working on this project spend one to two hours preparing lessons each morning, then three hours per afternoon teaching. Lessons are structured to ensure that students learn the language in a fun way. In some cases, volunteers are paired with another volunteer for the first few days. This allows them to develop more confidence and gain more control over their class. Besides teaching English, volunteers also play an important role by encouraging and inspiring the students.
The Balinese people are very friendly and welcoming, and they will warmly welcome you. Volunteer work in Bali can be a lifelong experience and can contribute positively to your future prospects. Furthermore, it can help you develop transferable skills that will benefit you in the future. When deciding to apply for this position, you should consult with a volunteer agency that is established for this purpose.
Volunteering in Bali means working with local people to help transform their communities, build better lives for local people, and create a more sustainable planet.
Volunteering in Bali is a unique experience, but you should have realistic expectations. Often, volunteer programs in Bali do not pay you, but they may provide stipends and cover some of your living expenses. Usually, paid volunteer work requires a minimum six-month commitment.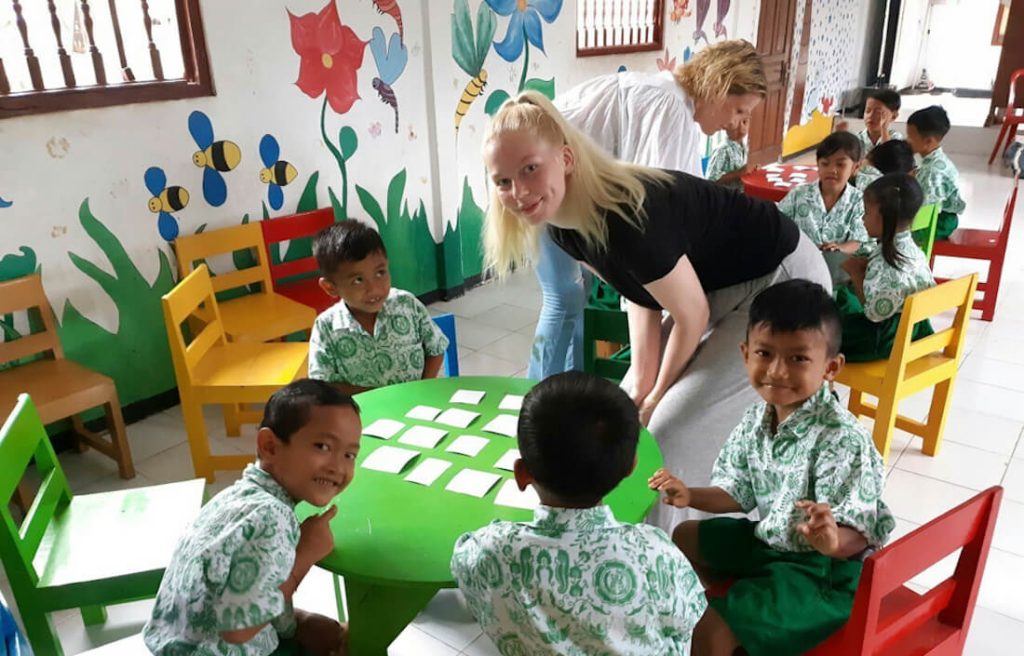 Saving sea turtles
While volunteering in Bali, you'll have the opportunity to protect endangered sea turtles. The Bali Sea Turtle Society works to protect nesting sites of hawksbill and olive ridley sea turtles. You'll also have the chance to explore the beautiful island of Bali. The island is a popular tourist destination and you'll have the chance to learn about turtle conservation in an authentic way.
Volunteers help with a variety of tasks – cleaning turtle tanks, placing eggs in hatcheries, feeding baby turtles, and performing research. The volunteers also conduct educational awareness classes to raise public awareness about the turtles' plight.
Volunteering with the Turtle Conservation Project at Legian Beach in Bali can help reduce the threat faced by sea turtles. You will be working alongside local professionals to ensure the turtles' survival. Your efforts will help maintain the turtle population and rehabilitate weak juvenile sea turtles. The positive impact you make will be felt throughout the ecosystem.
Volunteering for the turtle project can be physically demanding, so make sure you're physically fit and prepared for a physical challenge. You'll be walking miles in soft sand at night while helping to monitor nesting turtles. You may also be exposed to rain and a variety of bugs. Before volunteering in Bali, make sure you've figured out what you're in for.
Getting to know the local culture
When you are volunteering in Bali, you have many options to make your experience as meaningful and rewarding as possible. You can choose to take a role in a healthcare project or help with an education campaign. In the healthcare field, you can train students in basic healthcare and nutrition. Or, if you are qualified, you can help run check-up clinics and healthcare campaigns.
Volunteering in the education sector can be particularly rewarding. Many programs are focused on educating the youth and providing valuable English language skills. Volunteers can help teach English lessons, design lesson plans, and share knowledge about the language. They can also assist in environmental or diving programs. The best way to get involved in these programs is to find the program that matches your interest.
Volunteering in Bali can also allow you to learn about Bali's unique culture. A culture week program will immerse you in the local culture. You'll learn about Bali's customs and traditions while working with local people. You'll also visit temples and learn about Balinese life. You can combine a culture week with an education or Turtle Rescue program to really get to know the local culture in Bali.